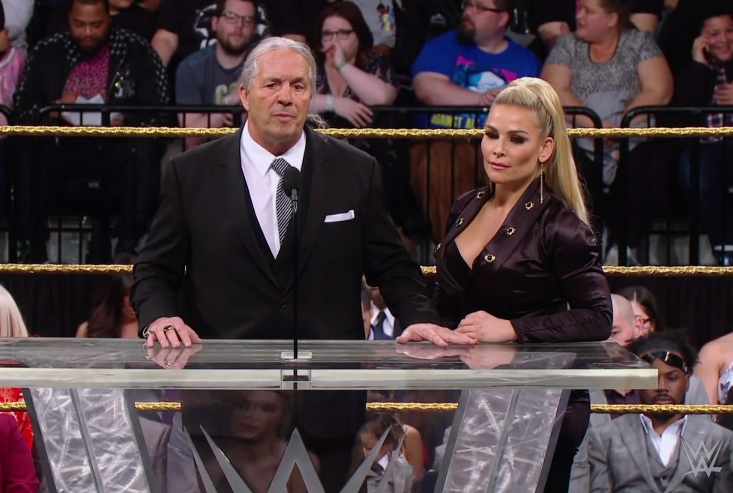 One of the strangest and most upsetting stories of the weekend was the random act of violence against WWE Hall of Famer Bret 'Hitman' Hart during his speech for the Hart Foundation at Saturday's induction ceremony. The attacker — who got his face caved in by national hero Dash Wilder and various other Superstars and friends who came to Bret's aid — turned out to be a 26-year old amateur MMA fighter with a history of violence and clear mental problems.
While WWE issued their statement quickly after the incident occurred, Hart himself had remained silent until an Instagram post shared on Monday afternoon. In the update, Bret provided an update on his health, put over the stars he walked out to the ring at WrestleMania the following night, and expressed gratitude for all the fans and well-wishers.
What a wild weekend to say the least! First of all I want to thank WWE for not only the Hall of Fame honor for myself and Jim "The Anvil" Neidhart, but for their hospitality with my family and friends. Regarding the ceremony, firstly I want to let everyone know that I am okay and was not injured. If there's one thing I want everyone to take away from the Hall of Fame ceremony is not so much what happened, but how I wasn't going to let anything stop me from completing my tribute to my best friend and our team. I'm also glad I got to join @natbynature and @thebethphoenix for their WrestleMania moment. Thank you everyone for your kind thoughts and words.
Glad to hear that Bret's fine, especially considering reports that he'd gone to the hospital with hip pain later that night. Now let's leave Bret Hart alone, and never be stupid enough to charge someone at a Hall of Fame induction ceremony again.