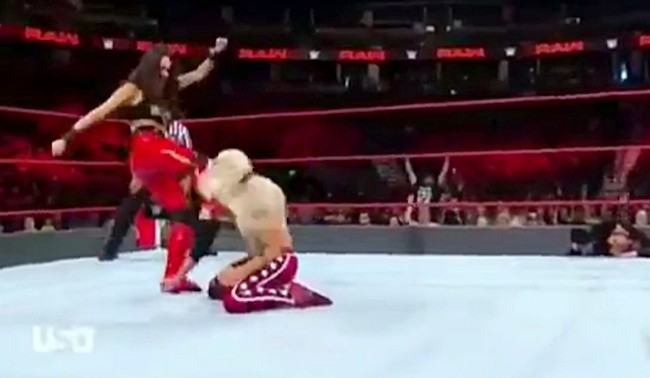 The return of the Bella Twins to WWE has been something of a mixed bag. There's no doubt they bring in a wider audience thanks to their massive following from their Total Bellas show on E! and their YouTube channel, which is extremely valuable to WWE.
On the same hand, they aren't the same quality of in-ring competitor as many of the current stars on the roster. Brie, particularly, has had a bit of a rough go in her return, most notably with a couple of suicide dives that were not well executed at best and near disasters at worst.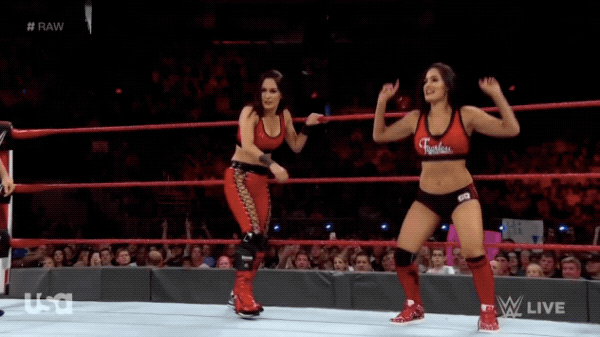 On Monday, the Bellas were back on Raw in six-woman tag action with Natalya against the Riott Squad, and Brie busted out her husband Daniel Bryan's "Yes!" kicks on Liv Morgan. Unfortunately, Brie and Liv get out of rhythm as Bella appears to go too quickly at the end with her kicks and catches poor Morgan square in the face with a couple of kicks.

You can see Bella's first three kicks are in a solid rhythm, with Morgan selling the whiplash effect of the kicks. However, the last two kicks happen too fast and catch Morgan as she's coming back down from the prior kick. It appears Morgan gets hit directly in the face twice, collapsing to the ground after. In non-GIF form, you can hear Corey Graves react on the broadcast to Morgan taking the kicks to the face.
Wherever you fall on the Brie fan spectrum, this does not help her case as an in-ring competitor against those that have been critical of her in this most recent return. Hopefully Morgan is OK and this doesn't cause her to miss any real time.