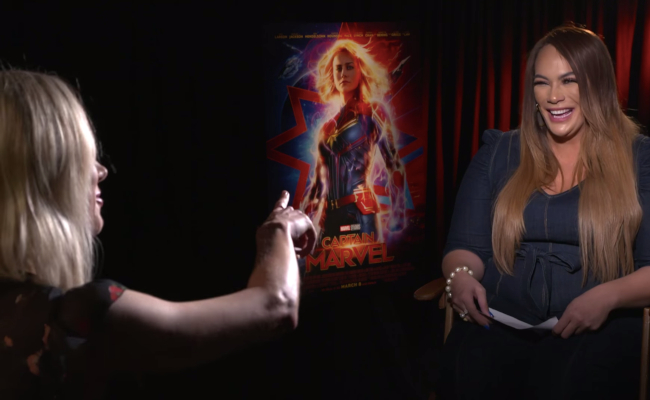 Apparently WWE Superstar Nia Jax does press junket interviews now, which is an interesting addition to the former Raw Women's Champion's duties. In any case, she got to interview Captain Marvel star Brie Larson, for a video that's now up on WWE's YouTube page. The two talked about fight training, the difference between being a Marvel superhero and a WWE Superstar, and the importance of strong women onscreen as role models for young girls.

Nia asked how she could tell if any of the women in the WWE locker room are Skrulls (shape-shifting aliens from the Marvel Universe), and when Brie said "Be careful! Maybe don't punch right away," Nia responded "I'll punch and then ask later. That's usually my thing."
Toward the end of the interview, Jax said "I'd like to challenge you in the ring, whenever you're ready." Larson responded enthusiastically, a huge grin on her face, "Oh yeah, I'm there! You're going to regret that!" and then they both agreed it would be fun.
Obviously they're just bantering in an interview, and there's no reason to believe anything will come of it. But on the other hand, Green Arrow did fight Cody Rhodes at SummerSlam 2015, so you never know what might happen when WWE and superheroes cross paths.