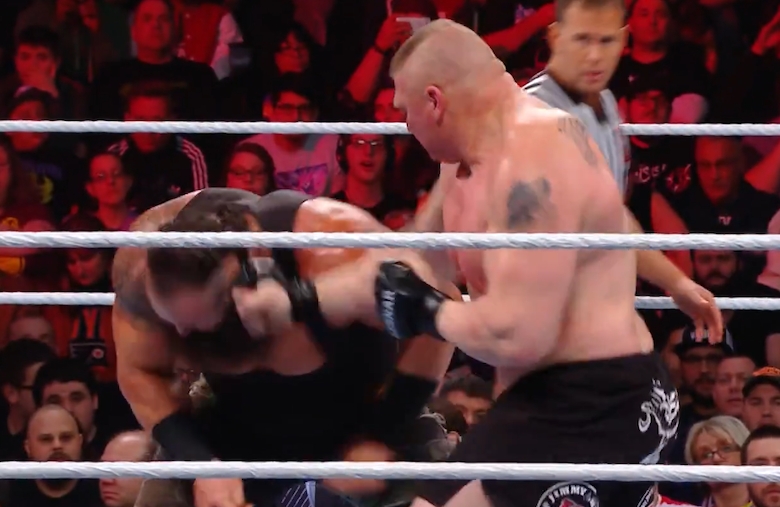 The triple threat for the Universal Championship at 2018's WWE Royal Rumble featured a lot of memorable moments, but none quite as brain-impairing as Braun Strowman giving Brock Lesnar a stiff knee-lift to the face and getting straight-up punched for real in the side of the head about it. This is how the match opened.
In case you don't remember, here's the slow motion replay.
The good news is that Braun Strowman is not a normal person like you or me, and was able to continue the match instead of having his brain turn to jelly and leak out of his ear. In a recent interview with TalkSport, the Monster Among Men recalled the incident and took the kind of diplomatic tough guy stance you'd expect from someone who (1) is tough enough to fight for a living, and (2) probably don't want to get punched in the face for real by Brock Lesnar again.
From Strowman:
"We laughed about it afterwards. It is what it is. We got to the back and I said 'Hey, my bad" he said the same thing and we went about our business. We're both grown ups, we both knew what we were getting into and at the end of the day, we're both very dominant males and neither of us wanted to give in an inch, so in the end we took an inch from each other. Working with Brock I go in with the mentality that it's a real fight. You have to. I remember Royal Rumble a couple of years ago, I got a little ants in my pants, so did he and we threw some heavy hitters at each other and carried on from there.

"Let's face it, Brock's one of the baddest human beings on the planet and I enjoy it, I like the physical aspect of it. I didn't get into this thinking it was water polo or tennis or anything like that, I knew this was a full contact sport and when you're in the ring with Brock Lesnar it is full contact. Ask anybody's that's worked with him. Brock brings the big fight and that's why people pay money to see him."
If you're wondering what allows someone to get punched like that and keep going like nothing happened, here's Braun's secret: steaks. And being able to brag about your ambulance-flipping abilities.
"I believe out of all the crazy stuff that we've done, probably the best was when I flipped the ambulance over with Roman in it or when I imploded the ring with Big Show doing the superplex. I think the video of me flipping the ambulance has something like 75 million views on Youtube so that one might have connected with people more. I constantly to this day get kids coming up to me asking how I flipped the ambulance and I show them [pointing to his arms] right there. The power of protein. The New Day has pancake power, I have steak power."