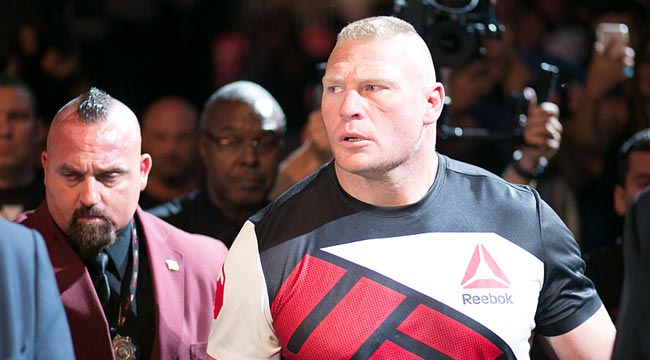 Brock Lesnar has been absent from WWE television since he issued his challenge to Daniel Cormier at UFC 226 earlier this month. Prior to that encounter, the WWE Universal Champion quietly re-entered himself into the USADA drug testing pool so as to get a jump on the six month requirement for fighting in UFC.
That would put an early January date as a possibility for a Lesnar title fight, but before we get there Lesnar must do something he couldn't do (in retrospect) for his UFC 200 bout with Mark Hunt: stay clean. Cormier is taking a "wait and see" approach, as he's been burned plenty of times in the past in fights with Jon Jones by failed drug tests, so Lesnar must clear all the necessary hurdles before Cormier will entertain a meeting in the Octagon.
According to USADA's athlete testing history, the first sample from Lesnar has been submitted, as noted by Wrestling Inc. and confirmed on USADA's website. This is an important step and the fight world will wait with baited breath to see if that sample comes back negative and dreams of Lesnar's return to UFC can become more real, or if he'll get popped for a positive test and find himself out in the earliest of stages.
One would think that Lesnar wouldn't put himself into the pool unless he knew he was clean and able to pass a test immediately, otherwise it would've been a foolish decision. The question will be if he can remain clean throughout the process and through a possible fight night.