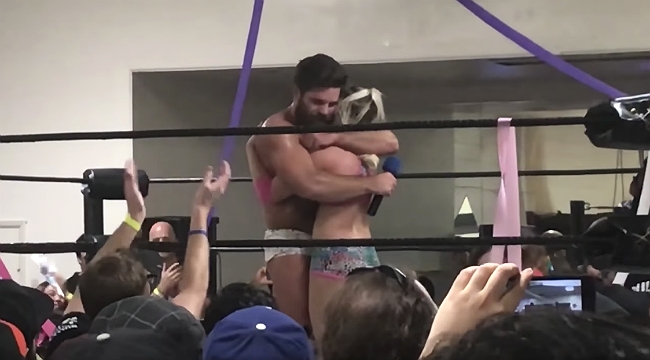 Earlier this week, WWE officially announced the signings of independent wrestling stars Ricochet, War Machine, and Candice LeRae. While Ricochet and War Machine are foreign to the WWE world, LeRae had an impressive run in the Mae Young Classic back in September, and in real life, she happens to be married to WWE NXT superstar Johnny Gargano.
LeRae is one of the most accomplished independent wrestlers ever. In a lot of ways, she blazed her own trail as an intergender wrestler during a time when intergender wrestling wasn't a thing. As WWE noted in their press release announcing the LeRae signing, she's had matches with everyone from Kevin Owens to Cesaro, and while WWE has shied away from intergender wrestling over the last several years, they did book James Ellsworth vs. Becky Lynch in 2017, and the Mixed Match Challenge almost scratches that same itch.
Considering LeRae's past, it's only fitting that her final independent wrestling match was against longtime World's Cutest Tag Team partner, Joey Ryan. LeRae defeated Ryan for Bar Wrestling in Baldwin Park, California, on Thursday night, and the scene after the match was pretty emotional.
https://www.youtube.com/watch?v=gCH0Ng0N0PQ
LeRae immediately hugged Ryan as their theme song, "I Believe in a Thing Called Love" by The Darkness played in the background, before asking her mom and nieces to join her in the ring. Ryan then got on the mic and thanked LeRae for many things, chief among them being how their tag team essentially saved his wrestling career. Ryan capped off his kind words by mentioning how he doesn't watch WWE these days, but he will watch every single Candice LeRae appearance.
Fortunately for us, Joey Ryan, and Candice LeRae, we might not have to wait too long to see her inside of a WWE ring. The Royal Rumble is just over a week away, and while nobody is reporting anything official, there has been plenty of internet speculation that LeRae could be an entrant in the first-ever women's Royal Rumble match. We'll find out on January 28th.