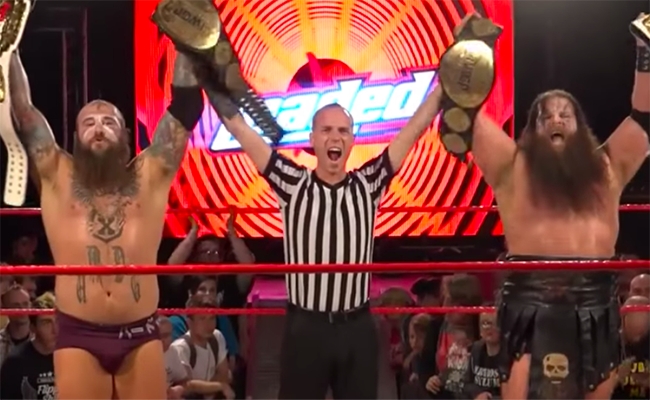 It's shaping up to be a mighty interesting couple of months for WWE and incoming talent. Already this week, WWE has announced the signings of Ricochet and Million Dollar Arm subject Rinku Singh. And there are more on the way!
Keep in mind that we haven't even gotten to EC3 and Bobby Lashley likely signing with WWE, which is what all signs seem to point to. And of course, James Storm is still waiting out there, just … lurking. Kenny Omega may have renewed his contract with New Japan Pro Wrestling, and Cody Rhodes may be just fine on his own, being All In, but there are a lot of other talents out there who would love a chance to try their hand at the biggest game in town.
On Tuesday, shortly after the announcement that Ricochet had officially signed and will report to the Performance Center, WWE.com posted a similar announcement for former Ring of Honor and IWGP Tag Team Champions War Machine, consisting of Ray Rowe and Hanson (or Warbeard Hanson, if you're as nasty as Hanson's warbeard is.)

Our past posts indicated that WWE has been high on Ray Rowe for a good long while, and although the full ROH was delayed for a bit due to some possible heat over tampering allegations, we're finally at a point where over the past year, Rowe, Hanson, Adam Cole, Bobby Fish, Kyle O'Reilly, and Donovan Dijak have all departed Ring of Honor to head to Orlando. That's … a pretty successful talent heist!
From WWE.com's announcement:
One of the planet's most ferocious and intimidating tag teams is on its way to the WWE Performance Center.

New signees Todd "War Beard Hanson" Smith & Raymond Rowe, collectively known as War Machine, have terrorized teams around the world since forming an alliance in 2014. Together, they have won championships in the United States, England and Japan, including the prestigious IWGP Tag Team Titles, the same championship held by the likes of Luke Gallows & Karl Anderson and The Steiner Brothers.

Weighing more than 550 pounds combined, the burly brawlers are every bit as tough as their War Machine moniker suggests. Smith & Rowe have made smash-mouth collisions their stock in trade, yet they're more than just thunderous power; deceptively agile and expertly skilled, the pair has perfected an array of double-team moves, helping them achieve success wherever they go. With a gruff exterior that would look right at home beyond the wall in "Game of Thrones," Smith & Rowe's appearance alone is enough to strike fear in the hearts of opponents.

Both men were also celebrated singles competitors prior to forming a team. Smith, of Lynn, Mass., first learned the ropes under WWE Hall of Famer Killer Kowalski and began competing in 2001, and he soon emerged as one of New England's hardest-hitting competitors. Rowe, a Cleveland native who made his in-ring debut in 2003, collected singles titles throughout Ohio, Pennsylvania and Texas before focusing on tag ranks.

Now that they've arrived at the WWE PC in Orlando, Fla., could it be long before Smith & Rowe begin throwing their weight around in one of WWE's Tag Team divisions?
Note that the announcement both states they have already reported to the Performance Center, and that they won't necessarily be heading to NXT, which does count as "one of WWE's tag team divisions," but the Raw and Smackdown rosters could definitely use some tag talent, especially given all the injuries of late.
There is still another announcement expected this week, as rumor has it Candice LeRae has finally signed a long-overdue contract with WWE. If you're unfamiliar with War Machine, have some videos of the decorated tag team: