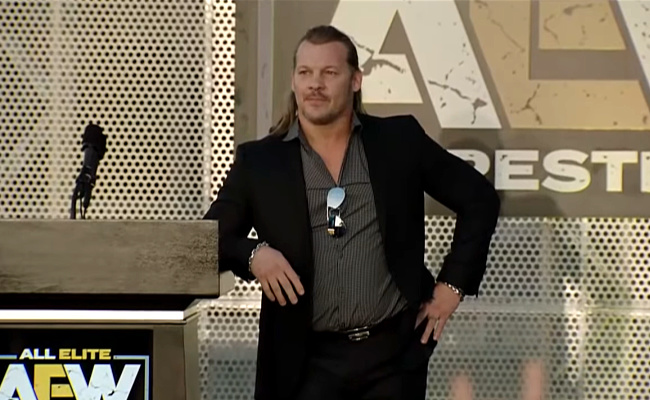 When Chris Jericho appeared at the end of yesterday's All Elite Wrestling rally, it was exciting without being particularly surprising. There have been rumors that Jericho would sign with All Elite for as long as there have been rumors about All Elite happening, but it was still quite something to see a WWE workhorse like Y2J announce his commitment to the newly formed company.
Speaking to WrestlingInc after the rally, Cody emphasized the importance of Jericho's presence both at the rally and in AEW:
To have Chris Jericho here today, to give us what we call in the wrestling industry, "the rub," and for him to — no pun intended — go all in with All Elite Wrestling, I want that to be the news today. So, that meant we held some things back because we want to do this thing slow, we want to do it correct.
It's also interesting to know that some announcements were held back to keep the focus on Jericho, which raises questions about what else we'll learn in the weeks to come.

According to Dave Meltzer at Wrestling Observer Radio, Jericho's contract with AEW is not exclusive, leaving the door open for further appearances with New Japan Pro Wrestling. Jericho wants to do more work for NJPW, and NJPW is reportedly interested in continuing to bring Jericho in for big events. According to Meltzer, most of the AEW contracts will be more exclusive, but Jericho's an exception.
As for WWE, they responded to Chris Jericho's announcement by quietly moving his WWE.com profile from the active roster to the alumni section. He used to be listed between Charly Caruso and Corey Graves, but now he's in between Cherry and Chris Masters. Twitter user Diego has pointed out that WWE has also already removed Jericho from the intro video that they play before everything, replacing him with Cesaro.
It's no surprise that Vince McMahon and company would lose interest in bringing back anyone who works with All Elite Wrestling, even an old hand like Jericho, and whether they've had a backstage conversation or not, moves like these send a pretty clear message.