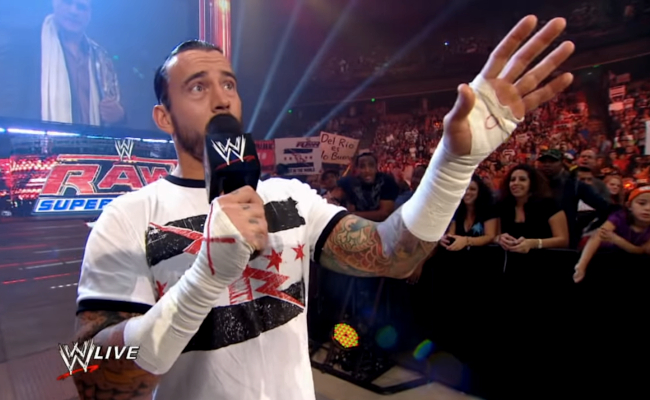 CM Punk was a lot of people's favorite wrestler until he left WWE. Since then, he's been involved in a messy legal case involving that company and his former friend Colt Cabana, and otherwise he's been focused on doing MMA for UFC, despite not being particularly good at it so far. People talk about him coming back to WWE, or even coming back to Ring of Honor, and now there's speculation about him showing up in AEW. Everyone seems to want CM Punk to be a pro wrestler, except for CM Punk.

In a new ESPN.com interview, Punk makes clear that if there have ever been hints about his return to wrestling with AEW, they didn't start with him.
I think if there's an expectation, it's purely been built by them. My silence to some fans means something. They're trying to read the tea leaves, but there's nothing to read. I even feel like talking about it may feel like I'm putting some sort of negative slant on it, but I'm really not. The fact is I know they've teased me ad nauseam, and if anybody is gonna get mad it's at me because I don't show up. Well then, I don't know what to tell you. That's one of those things that's none of my business.
He does know Cody Rhodes and the Young Bucks, but that doesn't mean he's coming to AEW, because as he keeps saying, he doesn't wrestle anymore. He even admits that when he hears from those guys, he immediately suspects they'll use that communication to hint that he might join their company, but also that he did get at least one real offer via text (not that he was interested).
The last thing I got — I got a text from Cody [Rhodes]. And again, I almost don't even know how to reply to them sometimes, because if I reply, they do interviews and are like, "Oh yeah, I just talked to Punk." I'm kind of damned if I do, damned if I don't. I always think if somebody wants to do business with me, they can come talk to me. Texting offers isn't really a way to do good business, at least. It was texted through three people and an offer came in through text. This is like a month ago, maybe. I think it was just a general offer. I never could have done the last one in Vegas [Double or Nothing], because I was in California for CFFC.
Punk insists that he's not even actively angry at WWE anymore, he's just not the same guy who was your favorite wrestler.
I get it. But also there's a weird thing, and I don't know, it's just across entertainment as a whole, but I'm not that dude that sat down on a stage in Vegas eight years ago. I'm not the dude that left WWE. I'm not that guy. That was five-years-ago Phil. I'm a different dude now. People still have that connotation, like, "Oh, he hates WWE." And it's just like, no, I've let all that go, and I've let all that go so long ago. But there are people that hold on to that. They still think or want me to be who I was. I'm not who I was yesterday. This is my journey, this is my odyssey.
You can check out the whole interview at ESPN.com, in which Punk also talks about how he's still under contract with UFC, despite constantly expecting them to let him go, and also doing commentary for CFFC. It may be time to accept that CM Punk simply isn't a pro wrestler, he just used to be one.