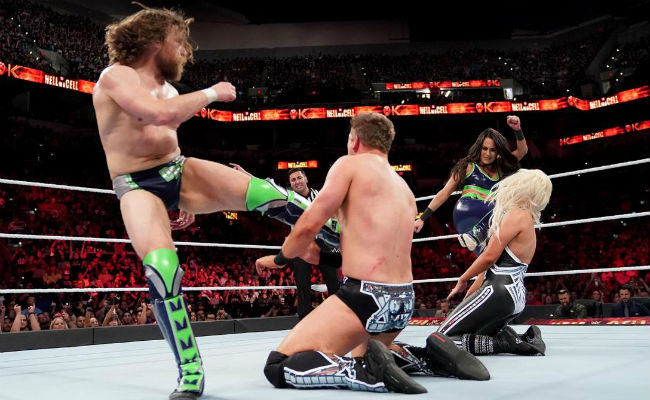 The WWE feud fans hoped would happen for years, Daniel Bryan vs. The Miz, is finally underway and looks like it will continue for a good long while. After Bryan consistently getting the better of his rival on Smackdown, the Miz defeated him at Summerslam, and after a similar weekly TV dynamic, the married It Couple of Miz and Maryse defeated Bryan and Brie Bella in a mixed tag match at Hell In A Cell.
It's obvious that the next logical step in this conflict is for Bryan and Miz to involve their children. Birdie Joe Danielson and Monroe Sky Mizanin probably won't start seriously training for at least fifteen years, but it's never too early to start feuding. I decided to kickstart this battle of the babies by comparing what Birdie and Monroe have achieved so far to figure out which child is the early frontrunner.
Reality Show Performances
Though they're too young to pro wrestle, both babies have already started their careers in the entertainment side of sports entertainment by appearing on their parents' reality shows.
We first saw Monroe mere moments after her birth on season 1, episode 4 of Miz & Mrs. It was heartwarming and adorable to see Miz and Maryse become parents.
The It Baby hasn't been alive long enough to provide all that much content, but even before she was born, she inspired the transcendent segment that was the Miz's pregnancy photo shoot.
We also met Birdie very shortly after she was born on the October 25, 2017, episode of Total Bellas. It was equally heartwarming and adorable to the birth of her younger opponent.
Since she's been alive longer, Birdie has the advantage of having had more TV time. Some of her best on-screen moments have been with her aunt Nikki, with whom she has a secret language reminiscent of former Cruiserweight Champion Akira Tozawa.
Winner: Monroe. Although both babies have produced adorable moments with their wrestler parents, nothing baby-related on the Bellas brand has yet to top the pregnancy shoot.

In-Ring Ability
This is another category in which Monroe has an experience disadvantage. However, she already created an incredible moment of WWE programming when her dad used a decoy of her to help him beat up Daniel Bryan on an episode of Smackdown.
Birdie, in her impressive pro wrestling debut, showed she inherited her dad's aptitude for in-ring innovation by tagging Bryan with her mouth.
She's also showed that, just like her parents, she's ready for a fight anytime and anywhere, even taking stiff shots at the Irresistible Force that is Nia Jax.
Winner: Birdie. We haven't seen much of her in the ring yet, but the Danielson baby has made it clear that she'll be a wrestler to be reckoned with once she's ready to commit to a life in the squared circle.

Cute Instagram Pictures
With the combination of their parents' branding abilities and their own adorable baby faces, it's not surprising that Birdie and Monroe have both been the focus of approximately one billion Instagram posts already. I'll look at a selection from their parents' feeds to determine which child's 'Gram game is stronger.
It turns out they both look extremely cute while sleeping!
And while smiling!
And while wearing sunglasses!

And while supporting their dads' favorite sports teams!
And while helping their dads promote their side projects!
And while wearing put-together little baby outfits!
After competition stiffer than Daniel Bryan's pre-retirement wrestling style, this round ends in a draw! Which means this whole article ends in a draw! I can't think of a better indication that Monroe vs. Birdie will be the greatest rivalry of the 2030s and/or 2040s. The Miz and Bryan clearly need to step their games up if they don't want to be overshadowed by their offspring.