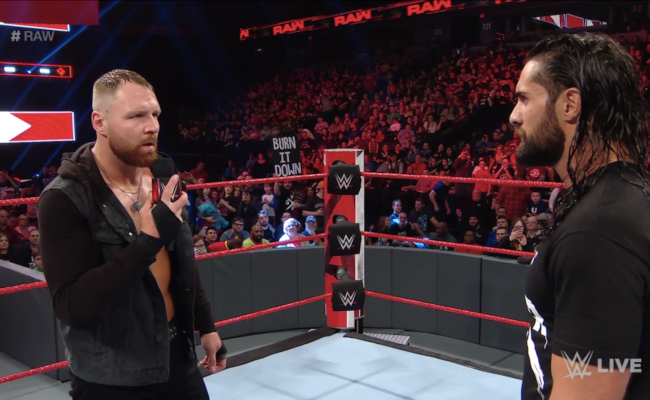 In case you missed Raw last night, in between all the Becky Lynch apology drama something else happened. It wasn't an apology, but it did seem like a big step toward a reconciliation. After a segment in which Seth Rollins had his in-ring promo interrupted by Paul Heyman, and then stood his ground about taking the Universal Championship from Brock Lesnar at WrestleMania, Dean Ambrose came out early for his match with EC3, while Seth was still in the ring.
Seth looked like he thought there might be a fight, but then Dean took the microphone and said "I've only got one thing got say to you: Slay the beast." Here's the segment in question, which was edited out of the WWE Fan Nation version of the clip:
According to Dave Meltzer at the Wrestling Observer, Dean was supposed to say a lot more. He was apparently scripted to deliver a whole promo to Seth where he talked about their time in the Shield, and about Roman Reigns, and then eventually got around to "Slay the beast." Reportedly, Dean made the decision himself to cut all of that and keep it simple. Since he's apparently leaving after WrestleMania, he has some freedom, like anyone who's given their notice, to do what he wants without lasting consequences.
Of course, if you think Dean leaving is a work, you may think that Meltzer is being worked here too. Personally, as we see what Dean is doing on a week-to-week basis, I become more convinced he's really gone in April.

As you may have heard, the independent wrestling world is buzzing with the news of Ambrose leaving WWE.