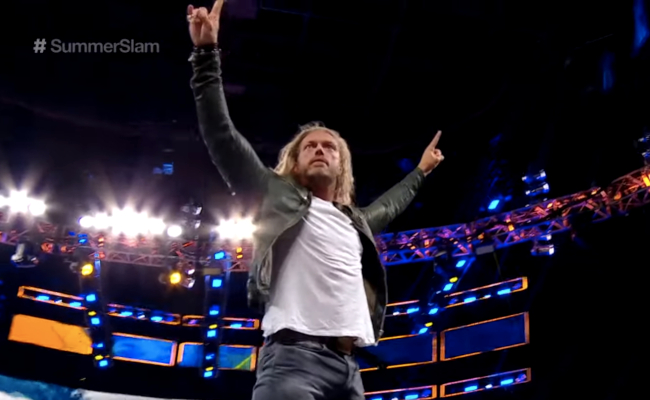 One of the most unexpected moments at SummerSlam last weekend was when Hall Of Famer Edge showed up during the Kickoff Show and delivered a Spear to Elias. Seeing Edge wasn't the surprising part; he's made lots of appearances for WWE in the last few years, and even had a show with Christian on the Network for a while. Seeing Edge do a wrestling move was the part nobody saw coming, since he was forced to retire in 2011 due to ongoing health problems stemming from neck injuries.


Edge, also known as Adam Copeland, talked at length about his SummerSlam appearance on the new episode of the E & C Pod of Awesomeness, as a post on Reddit's Squared Circle highlighted. Copeland says that he only found out the segment was happening fifteen minutes before going out there, and that when Christian asked him what was going on he responded, "You'll see."
Furthermore, Edge said he'd love to get back in the ring for an actual match, and thinks he could, although he doesn't believe WWE's doctors would clear him. He said his doctors say his neck is doing really well, and could be fully healthy within five years. He makes clear that he's not talking about a whole new WWE run, but that he could totally do one last match:
To be perfectly honest, I think I could do a match tomorrow. And I might be blown up, but I'd be okay. It's just from what I know with the WWE medical staff, they won't allow it.
Considering WWE let Paige back in the ring after her initial neck injury, only for another injury to make it worse, it's probably best for Edge to listen to WWE's medical staff, although he does point out that he does his own fight scenes as an actor, and that Elias wasn't the only person he's speared recently. So maybe Edge will make a return, if just for one more match. Stranger things have happened.