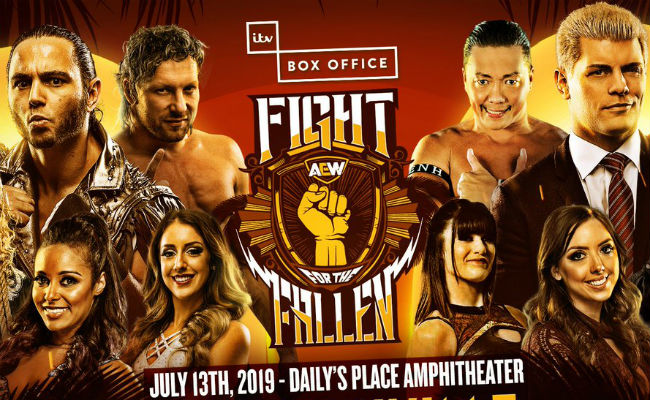 Between a parody show at a video game convention and their next actual pay-per-view event, All Elite Wrestling has Fight for the Fallen coming up this Saturday. Like Fyter Fest, it will air on Bleacher Report Live for free in the U.S. and on Fite internationally for various prices that you can find here. Proceeds from the gate go to Jacksonville's Victim Assistance Advisory Council to help victims of violent crimes and the AEW crew outlined how and why in the first episode of Road to Fight for the Fallen.
While an established company might play the hits at a mostly-free charity event, this is only AEW's third show, and from the looks of this nine-match card, they're not planning on coasting. Let's break down the matches, angles, and possibilities of AEW Fight for the Fallen.


The Buy In: Sonny Kiss vs. Peter Avalon (with Leva Bates)
On the pre-show, which is for some reason, like that of Fyter Fest, still called "The Buy In" despite the lack of a gambling theme for this event, we have the AEW singles match debut of Sonny Kiss. For those who haven't seen Kiss on the indies and/or as XO Lishus on Lucha Underground, this should be a more in-depth introduction to a very talented and charming performer.
Unfortunately for Kiss, this big opportunity for him is also the next installment of the Librarian storyline. Leva Bates (fka Blue Pants) and veteran California indie wrestler Peter Avalon are still fighting over who should have the gimmick of the Librarian and also they help each other cheat at wrestling sometimes and also they might be in love. This angle has stood out as the most poorly received part of AEW so far, but it's possible Fight for the Fallen could be when that changes.
The Buy In: Jimmy Havoc, Darby Allin, and Joey Janela vs. Shawn Spears, MJF, and Sammy Guevara
This match is deathmatch-prone indie weirdos vs. more normal wrestling jerks! These guys all have stuff going on in AEW, but it isn't directly connect to why this match is happening.
On the heel team, this is Guevara's first AEW match since he lost to Kip Sabain on the Double or Nothing pre-show. MJF wrestled in a four-way at Fyter Fest, has been cutting obnoxious promos, especially on Hangman Page, and freaked out about Shawn Spears taking a chunk out of his best friend Cody's head with an unprotected chair shot. Shawn Spears took a chunk out of Cody's head with a (gimmicked) unprotected chair shot because he called him a "good hand" and not a future world champion or something. Possibly this means MJF and Spears will fight during/after this match? Is AEW doing "can they coexist" tag teams? This match could be when we find out.
For the edgy risk-takers, Janela and Allin are coming off standout performances at Fyter Fest than resulted in an unsanctioned loss and a time-limit draw, respectively. Their partner Havoc has done the least of anyone in this match of AEW so far though, so this might be his match to break out.

The Dark Order vs. Jack Evans and Angelico vs. Luchasaurus and Jungle Boy
As first announced with a hype video of Facebook (and pointed out by @luchablog), Fight for the Fallen, like Fyter Fest, includes a three-way tag team match in which the "winners advance to All Out for an opportunity at a first-round bye in the AEW World Tag Team Championship tournament." So the winner of this match gets to face the Best Friends at All Out in order to get that bye, meaning those teams are wrestling two matches in order to skip one match. (This is the only thing we know about this tag tournament so far besides that it's to crown AEW's inaugural tag champs.)
Since the Best Friends already beat Evans and Angelico and are the other half of the All Out bye-earning match and the Dark Order (previously the Super Smash Bros of Chikara, PWG, and elsewhere) has been targeting them with spooky and theatrical threats, they're the most obvious picks to win this one.
SoCal Uncensored (Frankie Kazarian and Scorpio Sky) (with Christopher Daniels) vs. Lucha Brothers
In other tag team division news, SCU is facing the Lucha Brothers (Pentagón Jr. and Fénix.) The Lucha Brothers have been feuding with the Young Bucks over who is the best tag team in the world and also for the AAA World Tag Team Championships. Meanwhile, the SCU trio beat Stronghearts, didn't get a bye for the tag tournament, and Daniels lost to Cima. As they talked about in the announcement for this match, these guys who hate everywhere but Southern California want to make sure they're in that conversation about the world's best tag team too.
Adam Page vs. Kip Sabian
Page's next big match, and the highest-profile match of his career so far, is against Chris Jericho for the AEW World Championship at All Out. He earned it by winning the Casino Battle Royal at Double or Nothing after a match with Pac, which would have been the highest-profile of his career, fell through.
Page's most recent AEW match was a four-way with Havoc, Jungle Boy, and MJF, for which Sabian was on commentary, scouting his already-scheduled opponent for Fight of the Fallen. Sabian, a dirtbag British cruiserweight with a Harry Potter-themed finishing move, previously beat Guevara on the DoN pre-show.
As far as we know at this point, Sabian doesn't get Page's title shot or get added to his title match or anything if he beats him here. Page vs. Sabian is probably best described as a chance for two young talents to show their skills and further establish their characters in AEW. Sabian seems pretty doomed because as much as AEW says they're not using WWE tropes, this match looks like it's all about building momentum for Page.

Chris Jericho Will Have A Live Microphone
The other half of that All Out AEW World Championship match, Chris Jericho, doesn't have a match on this show, but he will be in Jacksonville with a live microphone. While in New Japan (a different kayfabe universe, we can safely guess, given how Mox wasn't recognized as the U.S. champ by Fyter Fest commentary) he just lost to Okada by rollup and set up a match with Tanahashi, in AEW he just came off beating Kenny Omega with his devastating new Judas Effect finisher. He's been big-timing the new promotion and, in kayfabe, didn't wrestle at Fyter Fest because he was offended that it was free. There are a lot of different things he could say mean words about here, probably to be interrupted by Page, or maybe another future rival.
Brandi Rhodes vs. Allie
So far in AEW, the women's division has the same amount of storylines as they've had photoshoots in swimwear, but with the women's title set to be unveiled at All Out, this could change at Fight for the Fallen. Former Impact Knockouts Champion Allie made her AEW in-ring debut on the Fyter Fest pre-show, which Brandi, who has yet to wrestle in AEW, instead playing a valet and on-screen management role, watched on TV backstage from a shockingly normal angle. So far, there's no bitterness in their rivalry, with Allie approaching Brandi on the Road to Fight for the Fallen, then shaking hands and agreeing to "go out there and show what we can do together."
Britt Baker and Riho vs. Bea Priestly and Shoko Nakajima
Before this match was announced, Britt Baker and Bea Priestly featured on the Fight for the Fallen promotional graphic and were promised to be "in action," and Dave Meltzer tweeted that Tokyo Joshi Pro's Shoko Nakajima would be at the show. Today, we learned that all these women and Riho will be wrestling in a tag match tomorrow!
Baker, AEW's first female signee, wrestled in the women's four-way at All In and the women's four-way at Double or Nothing. Riho wrestled in the joshi trios match at DoN and won in the women's three-way at Fyter Fest after a standout performance. She also made Yuka Sakazaki tragically, adorably sad!
Their opponents are newbies to AEW, and to working with each other. The 23-year-old Priestly has been wrestling for four years, mostly on the UK scene. She has recently stepped up her game and earned some buzz in a Stardom run that included her winning the World of Stardom Championship, making a big deal out of being the promotion's new foreign ace, her match with previous foreign ace Toni Storm getting called off because WWE didn't want WWE vs. AEW to happen, and pissing off women's wrestling GOAT Manami Toyota.
Shoko Nakajima, the Big Kaiju (she's four foot eight) (but extremely jacked!) is one of the best wrestlers in Tokyo Joshi Pro, the all-women's branch of AEW partner company DDT. She's charismatic, technically skilled, and in the midst of her first reign with TJP's top title, the Tokyo Princess of Princess Championship. Given that she's had some of her best matches (in this writer's opinion) tagging with and wrestling against Yuka Sakazaki, she was a natural pick for the next TJP guest star in AEW. Expect her to be the standout wrestler in this match.

Kenny Omega vs. Cima
For many people who are nerds about independent and/or Japanese wrestling, Kenny Omega vs. Cima is a dream match. They both have hard-earned reputations for greatness, Cima on the business side of wrestling as well as creatively and in the ring.
It doesn't seem like the OWE president should beat Omega given that Omega is going into a grudge match with Jon Moxley (who won't show up at this – he'll be in Japan, having wrestled his first G1 Climax match about 14 hours earlier), but you never know! With that match with Jericho, Omega's already shown that he's willing to take a clean L in his own company. Whatever the result, it would be cool if this leads to Omega having matches with Cima's Stronghearts pals T-Hawk and El Lindaman down the road, and it has potential to be a very cool match in itself.
Cody and Dustin vs. The Young Bucks
This brothers vs. brothers tag match has the most thorough story of the show, and arguably the second-most of any in AEW so far besides Cody vs. Dustin. The Rhodes brothers are former WWE tag champions and estranged family members who just had a bloody battle and an emotional reunion. They're testing the waters of this stage of their relationship by teaming up again. Their opponents are two narcissists who have been making fun of the "I need my older brother" moment on BTE and are dead set on being regarded as the best tag team in the world.
Everyone in the match is friends, but Dustin doesn't know the Bucks that well and says he wants to powerslam them for that bit in the above gif. In the same episode of Road to Fight for the Fallen (embedded at the top of this section), Cody tells a story of his Elite brethren who've made their names on the indies/in Japan not being aware of he and Dustin's WWE accomplishments. In sum, AEW has established enough heat between these teams that it could, in practice, be a much more bitter contest than it looks on paper.
It's also sure to be a clash of styles. Cody still very much wrestles like he's from WWE, but he now has years of experience working on the indies and with indie wrestlers. Dustin, however, does not, and the 50-year-old says the main thing he saw while scouting the Bucks is that "they do a lot." Will Dusty's kids adapt more to the Bucks' style, will we see an older school performance from the Bucks than usual, or will it be a mix? As much as any match result, that's a big question going into AEW Fight for the Fallen this Saturday.