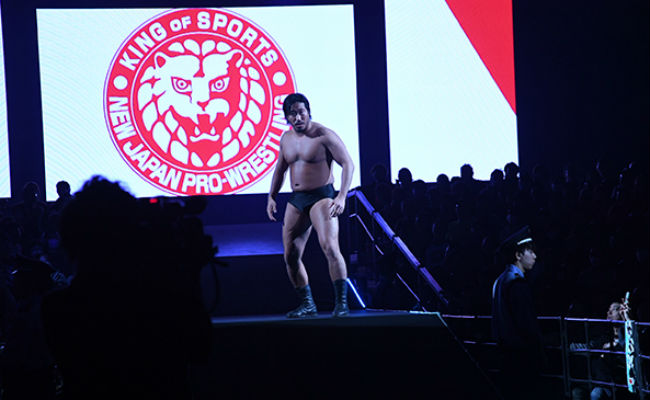 If you watch more New Japan Pro Wrestling than just the big matches, you've probably seen the Young Lion system in action. Trainees at NJPW's dojo wrestle in the opening matches of the company's shows and working as ring crew as they spend the first few years of their career fairly under the radar. This September, however, the dojo boys will get a more of the spotlight than usual when the Young Lion Cup returns on the Destruction tour.

What Is A Young Lion?
Young Lions (aka young boys) are wrestlers who are currently training to wrestle for NJPW. They live in a dorm-style house near the dojo, where they perform household duties for themselves and their trainers. They do about a million squats a day and bulk up by eating a ton of chankonabe, the stew traditionally used by sumo wrestlers to gain weight. At New Japan shows, they set up the ring, hold the barricades between the ringside area and the audience in place, and shield the audience from brawls happening beyond the barricades. Sometimes they eat chair shots and other attacks from heels, especially those in Suzukigun and especially Minoru Suzuki.
When they wrestle, these young men wear plain black trunks, start their careers with shaved heads, and work with a restricted move-set in order for them to perfect their fundamentals and learn how to build a compelling match using the most basic of wrestling techniques. If they wrestle anyone who isn't a trainee, they are certain to lose until they graduate the dojo. Most go on a learning excursion overseas and come back with new skills, a new or more developed character, and sometimes a new ring name. But before this really kicks off their career, they win the investment of the audience while they're at their least flashy through their basic matches, their perseverance in the face of losing constantly, and what shines through of their personalities.

What Is The Young Lion Cup And How Does It Work?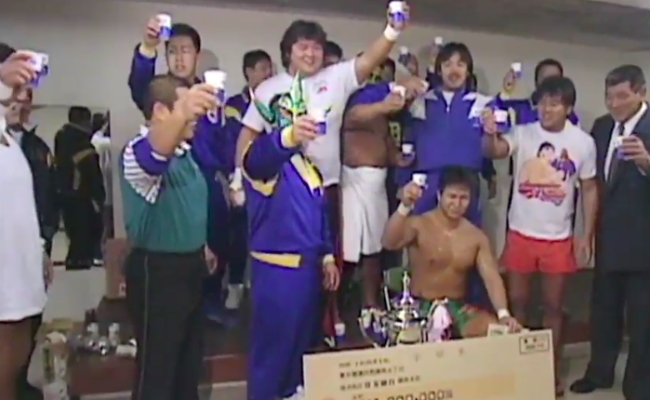 The Young Lion Cup is an all-trainee tournament that gives them opportunities to show their skills through singles matches with other trainees. It hasn't been a regularly occurring event, with the 2019 iteration only the twelfth New Japan Cup since the tournament was created in 1985.
The rules have varied over the years, but this year's tournament consists of one block of eight wrestlers, competing round-robin style. They'll earn points the same way wrestlers do in Best of the Super Juniors and the G1 Climax: two points for a win, zero for a loss or no-contest, and one for a draw. Unlike those tournaments, though, the matches will have a time limit of only fifteen minutes, and since there's only one block, there won't be a match set apart as the final. The wrestler with the most points at the end of tournament competition will be the winner.
A wrestler winning the Young Lion Cup is a sure sign that NJPW has big plans for his future, and most of the winners have gone on to be notable names in the company. 1986 winner Keiichi Yamada went on to become Jushin Thunder Liger and Masahiro Chono won in 1987. When the tournament returned for four consecutive years from 1993-1996, it was won by Hiroyoshi Yamamoto (now Hiroyoshi Tenzan), Satoshi Kojima, Manabu Nakanishi, and Tokimitsu Ishizawa (now Kendo Kashin.)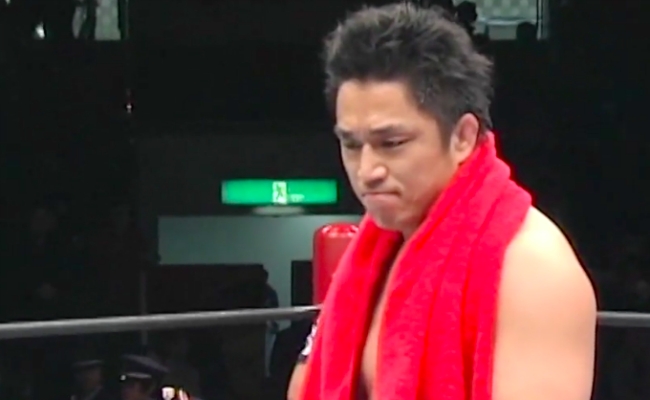 The first Young Lion Cup winner of this century was Kenzo Suzuki, who you might be familiar with as the man WWE gave the ring name Hirohito and an anti-America gimmick in 2004. (Suzuki has wrestled for All Japan Pro Wrestling since 2010.) The most remembered about the 2000 iteration of the tournament might be that it included the match between a young Katsuyori Shibata and Masakazu Fukuda that resulted in Fukuda's death after an internal brain hemorrhage.
Since then, there have been three more Young Lion Cups, which thankfully were not marred by tragedy. The 2004 and 2005 tournaments were won by Ryusuke Taguchi and Hirooki Goto, respectively, and the most recent YJC winner in 2017 was Katsuya Kitamura, the fan-favorite bodybuilder trainee who departed the company earlier this year. It looks like Kitamura is focusing on bodybuilding right now, and he uploads plenty of videos about that to his YouTube channel.

Who Is In The Young Lion Cup This Year?
The participants in this year's Young Lion cup are a mix of familiar faces from the NJPW Dojo (domestic) and newer ones from the United States and New Zealand, including two young men making their Japanese debuts.
The favorite to win the tournament has to be Shota Umino, one of the more senior trainees who many think will be a future ace of the company. The son of referee "Red Shoes" Umino already entered the New Japan Cup this year and had a great first-round match with Hiroshi Tanahashi. He got more attention this summer when he was basically adopted as Jon Moxley's personal young boy/tag partner for the duration of the G1 Climax tournament, gaining a sweet leather jacket, the nickname "Shooter," and a more aggressive attitude out of the experience.
Also from the Japanese dojo, we have Ren Narita, who regularly stands out in Young Lion matches and had the opportunity to show his skills in BOSJ this year as a last-minute replacement for Flip Gordon. While Umino and Narita have already had opportunities to break out in 2019, this will be the first tournament opportunity the year for their less-experienced classmates, Yota Tsuji and Yuya Uemura.
New Japan fans have gotten to know these two through their singles match rivalry in which they first kept wrestling to time-limit draws and have now moved on to trading wins. Tsuji, a former American football player, is clearly a future heavyweight and has shown a lot of promise already. Uemura doesn't stand out as much physically but is steadily making progress as well, showing some more individuality on the G1 Climax tour.
Two of the four non-Japanese participants in the tournament, Clark Connors and Karl Fredericks, recently made their Japan debuts on the G1 tour. Previously, they after wrestled New Japan on house shows and in dark matches in the U.S., as well as representing the company in Ring of Honor and RevPro. These students of the Shibata-run LA Dojo also beat Tsuji and Narita in a tag match on the G1 final show that definitely kicked off a Dojo Warz rivalry.
They'll be joined in the Young Lion Cup by the only American dojo boy yet to debut in Japan, Alex Coughlin. Some fans have gotten to know these wrestlers a little through their previous, low-profile New Japan matches and what we've seen of their personalities in the California Dreamin' mini-doc series, but this will be a real proving ground for them.
A Young Lion Cup entrant who has been almost totally unseen by New Japan fans is Michael Richards, the young wrestler from the Fale Dojo, the training school in New Zealand run by Bad Luck Fale that was an important stop on Jay White, Toa Henare, and Robbie Eagles' paths to NJPW. Richards has been seen working ring crew at shows in Japan along with fellow Fale Dojo trainee Andrew Villalobos and made his NJPW debut in a six-man tag at Southern Showdown in Melbourne, Australia. Richards is also apparently fine with having his ring name being the name of the actor who played Kramer on Seinfeld, almost guaranteeing that he will never be the first result when someone googles his name.

When And How Can I Watch This Boston Crab Buffet That May Or May Not Feature A Seinfeld Actor?
This is a very understandable question because NJPW's September schedule has already been complicated by the fact that that's when August's Super J-Cup and Royal Quest will be released on NJPW World. (You can also watch Royal Quest live on Fite on August 31 if you don't want to wait for some mysterious upload date the following month.) Part of the Destruction tour will be VOD Only, release date currently unknown, but there will be live broadcasts of the Road to Destruction shows on September 4-6 and September 8. The tour's big shows – Destruction in Beppu on September 15, Destruction in Kagoshima on the 16th, and Destruction in Kobe on September 22 – will air live as well.
Here are the Young Lion Cup matches that will stream live on NJPW World:
September 4
Shota Umino vs. Clark Connors
Yota Tsuji vs. Alex Coughlin
September 5
Ren Narita vs. Karl Fredericks
Yuya Uemura vs. Michael Richards
September 6
Clark Connors vs. Karl Fredericks
Alex Coughlin vs. Michael Richards
September 8
Shota Umino vs. Ren Narita
Yota Tsuji vs. Yuya Uemura
Destruction in Beppu on September 15
Shota Umino vs. Alex Coughlin
Yota Tsuji vs. Karl Fredericks
Destruction in Kagoshima on September 16
Ren Narita vs. Michael Richards
Yuya Uemura vs. Clark Connors
Destruction in Kobe on September 22
Shota Umino vs. Karl Fredericks
Ren Narita vs. Clark Connors
Destruction in Kobe also features an IWGP Intercontinental Championship match between Tetsuya Naito (c) and Jay White. Aside from a match commemorating Yuji Nagata's 35th year in pro wrestling on September 8, that's all we know about the Destruction tour schedule so far.
While we wait to find out what else is going on in Shin Nihon this September, who do you think will win the Young Lion Cup? Is it definitely Shota Umino? Give us your take in the comments.