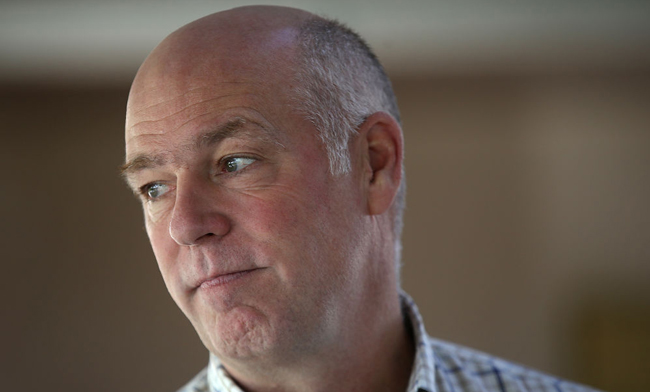 Republican congressional candidate Greg Gianforte has put himself firmly on top of the news cycle by allegedly body slamming a Guardian reporter who was asking about the American Health Care Act's CBO score. Gianforte ran a failed campaign for governor of Montana in 2016, now has his eyes set on the vacated house seat left by Secretary of the InteriorRyan Zinke, but his reported vicious slam of Ben Jacobs on the eve of the election could leave put him behind the 8-ball. Assault is the opposite of cashing in Money in the Bank.
The audio of the event is crazy enough, but until eyewitnesses are thoroughly vetted by the police on the scene, the Internet will have jokes. Many, many jokes. Almost all of which are either wrestling themed. Gianforte does kind of look like Tully Blanchard, to be fair.
So if Gianforte's next political maneuver fails (he's currently down one point in the polls), he'll definitely have a chance to make an appearance the next time WWE makes it through Big Sky Country. He is a political ally of the current administration, who loves them some McMahons. Hell, maybe Gianforte can start a stable of politicians currently under investigation for Russian conflicts of interest. They can be called: The Preexisting Conditions.