WWE announced (via Yahoo, who totally scooped them) its latest induction into its "low priority" 2019 Hall of Fame class, and it brings the total of two-time inductees to three for just this class alone.
The latest announcement is that the Hart Foundation will be inducted into the Hall of Fame. For clarification, that's Bret Hart (who was inducted by himself in 2006), and Jim 'The Anvil' Neidhart.
Bret shared his thoughts on the induction in the interview, which you can read an excerpt from below.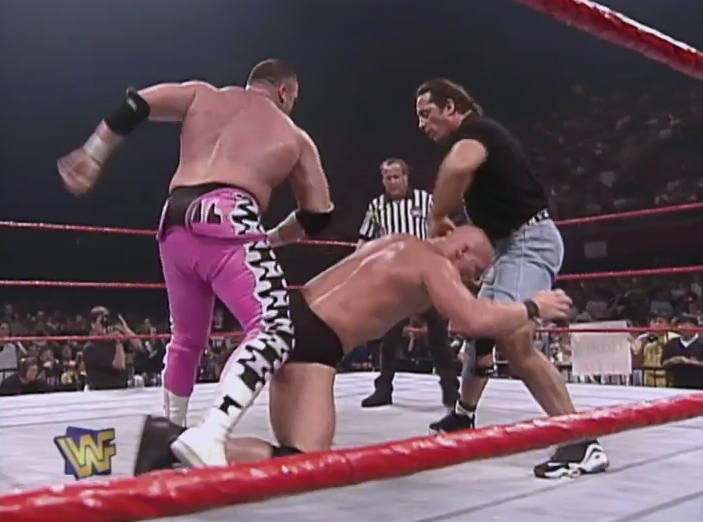 Bret "The Hitman" Hart and his brother-in-law, the late Jim "The Anvil" Neidhart, will be enshrined and recognized for their impact on WWE and tag-team wrestling in particular.

"It was very emotional for me," Hart, who will become a two-time inductee, told Yahoo Sports. "It really means a lot to me and I think it would mean a lot to my late tag partner, who would be really honored to be in the Hall of Fame. I think we both were really proud of our work as a team. I had hoped for years that we would get inducted together and get to go on stage together, but that's not going to happen now. Emotionally, I feel really proud and I'm glad to get a chance to speak for Jim and I know he'll be listening."
The choice seems like a way to get the late Anvil into the Hall without inducting him solo, although a solo induction wouldn't be undeserved. They'll join an induction class that includes Foundation rivals D-Generation X, The Honky Tonk Man, Torrie Wilson, and Harlem Heat.
Interestingly, the induction does not include former Foundation manager Jimmy Hart (who was inducted by himself in 2005), former member Danny Davis, or anyone from the popular mid-90s revival of the faction that included Owen Hart, Davey Boy Smith, and Brian Pillman. Presumably we should expect Smith to eventually be inducted alongside his fellow British Bulldogs partner Dynamite Kid, and Pillman's done enough to merit his own induction. Owen is a different issue entirely, which you can read about here.