Power Struggle is usually a show that sees dramatic things happen in New Japan Pro Wrestling, and the 2019 edition was no exception. On November 3 in Osaka, two popular wrestlers announced Wrestle Kingdom 14 returns to the NJPW ring, one a dream match between veterans and another a chance for a triumphant comeback after a career-altering injury.
The first surprise appearance of the night was by Chris Jericho, via video package. After his last NJPW match at Dominion, he got into a scrap with Hiroshi Tanahashi, leading people to think they would have a match at Wrestle Kingdom. (A Sports Illustrated article that reads very much like it was fed to SI by Jericho's agent basically announced the match a few months later.) At Power Struggle, Jericho targeted Tanahashi again with a creepy video that played after a tag match the Ace won for his team.
Jericho declared in the video that on January 5 at the Tokyo Dome, it will be "The Painmaker vs. The Ace. It's going to be a classic match. It's also going to be your last match." The Osaka audience responded enthusiastically to this challenge, which Tanahashi accepted right there in the ring, grabbing a mic and saying (as translated by Chris Charlton on English commentary), "Jericho! As it just so happens, I don't have any plans for the Tokyo Dome."
There was no sneak attack by the AEW World Champion, but there's plenty of time for that, and his current title was not mentioned, something that seems much more unlikely to happen in the future. AEW and NJPW continue to have no public relationship and have never acknowledged each other onscreen outside of Kenny Omega's Undertale-themed entrance video on last week's Dynamite.
A way more important return – no offense, Jericho – occurred later in Power Struggle, after Will Opsreay defeated Bushi to retain his IWGP Junior Heavyweight Championship. Ospreay got on the mic and said there were no other juniors left for him to face and called for someone to step up to him. After a moment, the lights went out in the arena and the image of a time bomb appeared on the screen. The meaning was clear to everyone: Hiromu Takahashi was finally back.
After the video continued with more bomb imagery and some cartoon Daryl family cats, Hiromu Takashi entered the arena, making his first NJPW appearance since his neck injury last July. He was wearing a neck break, but he tore it off and threw it away. The crowd was elated.
Takahashi briefly stared down Ospreay, ran directly into a barricade, and eventually entered the ring and took the microphone. He told the audience (as translated by Charlton), "I am Hiromu Takahashi! Thank you for waiting for me for so, so long. Thank you so, so much. Now that I'm back, I'm going to make the junior heavyweight division a hell of a lot more fun."
He then addressed concerns people might have about his neck and his infamously risky wrestling style. He said people might be asking "Can Takahashi Hiromu really go? You've only just come back. Come on, you've got to take it easy. You've got to work a safer style after that injury."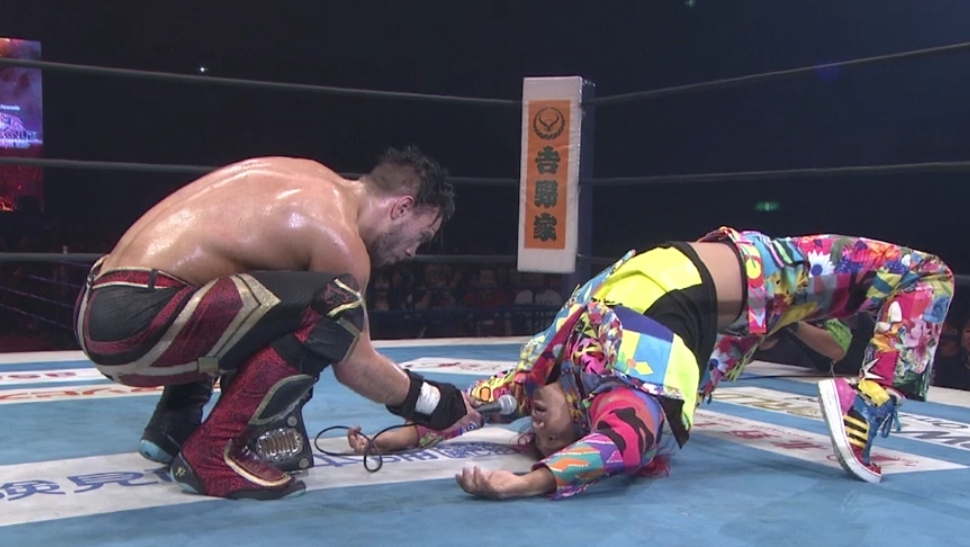 Takahashi continued in his own voice, "But who else other than me can beat that champion? It's only me! And I'm going to show you." He started bumping all over the ring and did a neck bridge, during which he asked for the mic again.
In English, which he had been practicing while he was out of action, Takahashi said, "Congratulations, Will Ospreay! Now you are the most strongest junior heavyweight wrestler! But Hiromu is back. I challenge you at Wrestle Kingdom!"
With a standoff between Ospreay and Takahashi and a lick of the title belt from the Time Bomb, the match was clearly on. Hiromu Takahashi will finally return to the ring at Wrestle Kingdom 14 to try and regain the title he had to vacate due to his injury from Will Ospreay, the man he beat for it to begin that reign.
With this match, Jericho vs. Tanahashi, a Junior Tag Team Championship match also determined at Power Struggle, Okada vs. Ibushi, a likely Heavyweight-Intercontinental double championship match, and Liger's retirement matches, the two-day Wrestle Kingdom 14 card is looking strong so far.