This week Hulk Hogan celebrated his birthday, which must have been bittersweet. While Hogan the man is still going strong, his career may very well be finished after a series of racist and homophobic comments were made public. Then again, Hogan's career is nothing if not resilient.
Hulk Hogan has tasted more than his share of success, but his career has not been a charmed one. During his 35-plus years in the wrestling business, Hogan has faced stumbling blocks and setbacks that would have destroyed the careers of most men, and yet he's always found a way to survive. To land on his feet. Before we declare Hulkamania dead and buried, let's look back at a few of the other times that slippery cat Hulk Hogan somehow avoided career destruction…
#1. WWF Fires Hulk Hogan for Appearing in Rocky III
"Hey brother, know anybody who's hiring?"
Vince McMahon would like you to believe Hulk Hogan burst into existence as a fully-formed, red-and-yellow dynamo the second he beat The Iron Sheik for the title in 1983, but in actuality, he first started working for the WWF (or WWWF as it was then known) in 1979. As the '70s segued into the '80s, Hogan was learning his craft and making a name for himself in Japan, while also establishing himself as a top heel in WWF, and then, suddenly, it seemed to be all over. Hogan agreed to a cameo role as Thunderlips in Rocky III without consulting with WWF, and Vince McMahon Sr. fired his ass cold. Just as Hogan's career was really taking off, he was grounded by Papa Vince and sent to work in the AWA, a second-tier operation compared to the WWF.
How Hulkamania Survived
In some ways, Hogan's time in the corner actually helped him. It allowed Vince McMahon Jr. to make a clean break and repackage Hogan as an American-loving, vitamin-swilling good guy when he took over WWF. Also, wrestlers making cameos in movies was still relatively rare at the time, so appearing in Rocky III helped boost Hogan's star aura, and in the end, was probably worth getting sh*tcanned over.
#2. Hogan Almost Kills Richard Belzer on Live TV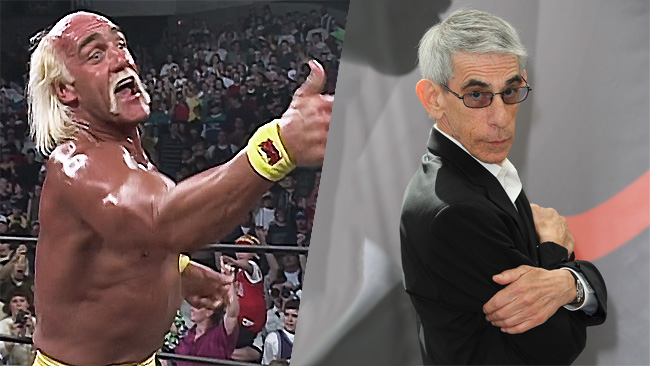 Prior to the first WrestleMania, Vince McMahon sent Hulk Hogan out on the talk show circuit in hopes of proving his wrestlers weren't your stereotypical violent cavemen. Hulk managed to prove the exact opposite. Richard Belzer, of Law & Order: SVU fame, had a short-lived talk show during the '80s, and when Hogan came on, he brashly challenged the WWF Champ to put him in one of his dumb fake pro-wrestling holds. Hogan, not wanting to expose the business, put Belzer in a legit front facelock, then dumped his unconscious ass on the floor, causing his skull to crack open on live TV. Belzer sued the WWF for $5 million.
How Hulkamania Survived
Well, Belzer did ask to be put in the hold, so he kind of had it coming. That said, Hulk was lucky Belzer wasn't hurt more. If he had received brain damage, or God forbid, had died when his skull cracked the floor, Hulkamania would have been over before it truly began.
#3. The George Zahorian Steroid Trial
Famous people wore things like this on purpose during the '90s. 
I don't mean to shock you, but a lot of guys who worked for the WWF in the '80s used steroids. That included 6-foot-7, 310-pound sentient slab of muscle, Hulk Hogan. Unfortunately for WWF's bulgy warriors, their hormone-fueled party began to attract the attention of the U.S. government, and in 1991, George Zahorian, WWF's favorite mark doctor, was indicted for alleged steroid and drug trafficking. While nobody in WWF was directly charged, it would come out during trial that Zahorian sold steroids to numerous WWF employees, including Vince McMahon and noted vitamin-pusher Hulk Hogan. Given Hogan had built his entire persona around clean living and prayers-saying, it was a critical blow.