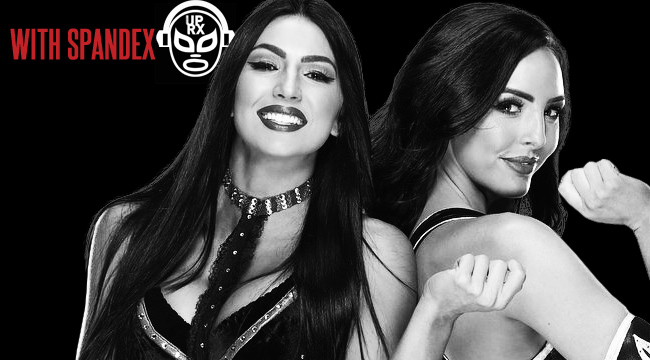 Hey, we've managed to reach 50 episodes! We're celebrating by giving our impressions of 'WWE 2K19,' which we got to play early at a media event at the WWE Performance Center in Orlando last week, and by interviewing three of our very favorites: former and future NXT Women's Champion the 'Queen of Spades' Shayna Baszler, and the most giffable and lovable life partners in professional wrestling, Billie Kay and Peyton Royce, The IIconics. We're so happy, we could cry.
If you haven't read the wonderful Elle Collins piece we discuss in the interview, click here and read that immediately. And while we're doing footnote, a special thanks goes out to Shayna Baszler for not kicking me in the arm and choking me out 1-5 times in the Kirifuda Clutch.
As always, make sure you send your thoughts and questions to withspandexpodcast@uproxx.com. We'll read the best emails on the show, and we'll send you fun prizes in the mail.
You can follow McMahonsplaining on Twitter, along with With Spandex proper. Our theme song is by J.W. Friedman, who is great. You can subscribe to the podcast on iTunes, Google Play or you can stream the episode below or download it on Omny Studio.
[protected-iframe id="63940cde8e688eea2b0bc39c36c5e224-60970621-76566046″ info="https://omny.fm/shows/mcmahonsplaining/episode-49-shayna-baszler/embed?style=cover" width="100%" height="180″ frameborder="0″]