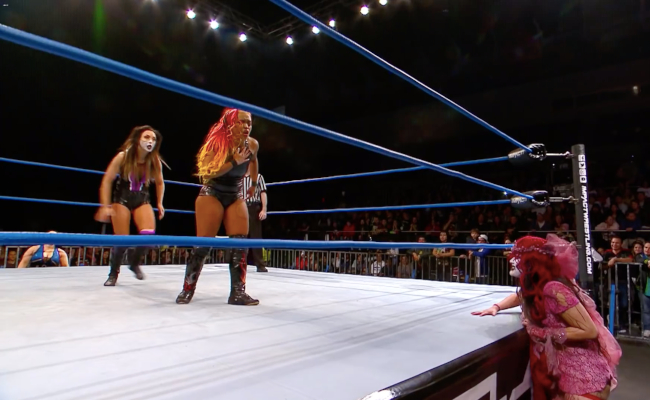 Hello Impact fans and curious rubberneckers! I'm Elle Collins, and this is the Knockout Report. I'll fill you in on everything that happens in Impact Wrestling, but I'm always going to lead with the Knockouts Division, because they deserve it. You can follow me on Twitter here, With Spandex here, and Uproxx here. You can watch Impact Wrestling on the Pursuit Channel or Twitch every Friday night at 10 p.m. Then on Mondays, read this column and share it with everyone you know.
Last week on Impact, the Lucha Bros and Taurus beat LAX and Daga, earning Pentagon and Fenix a rematch for the tag titles. Now without further ado, here's the Knockout Report for February 8, 2019.

Kiera Hogan Defeated Allie
Is it just me, or does it feel like nothing has happened in Impact since the Homecoming PPV and the move to Pursuit and Twitch? Rosemary's the perfect example. It's been a month and she literally hasn't done anything. She's made a few quick appearances (although not this week), but she hasn't wrestled and she hasn't talked. Those are the two things she's best at (aside from face-painting)! All she does is grin at Allie and leave scrawled notes backstage. Is she still not cleared to wrestle, or is this just all about keeping her mysterious and spooky? Whatever it is, it's getting old.
Kiera looked great in her match with Allie, and I like seeing Jordynne Grace play the supportive friend. Allie, on the other hand, as she frantically looked for Rosemary and then lost track of Su, just kind of seemed like she was desperate for the next part of the storyline to happen, and frankly, so am I! We've got five wrestlers in this storyline, and I really like all of them, but I can only watch some combination of Jordynne and/or Kiera fight Allie and/or Su for so many weeks in a row without getting bored. As of this week? I'm bored.
I like seeing Kiera Hogan get wins, because she's so promising and it's exciting to see her become a bigger star and a better wrestler week by week. That doesn't change the fact that she pinned Allie two weeks in a row with the same suplex while Allie was similarly freaking out both times. It's a great-looking suplex, I just need something new to happen.
Meanwhile, In Guyville
The Impact Championship Match is a Fatal Four-way
The Impact Championship Match at Uncaged next week was supposed to be between Johnny Impact and Brian Cage, but maybe somebody decided that we're having too many Homecoming rematches more than a month later, because they've now changed it to a Four-way by adding Moose and Killer Kross. I'm just going to go ahead and say that I don't love it. I like Killer Kross as a heel, but I don't really think he needs to be at the top of the card right now, and honestly neither does Moose. It feels like Johnny and Cage are the guys with a story here, and Moose and Kross just keep barging in and making everything about them. But I guess that's what heels do.
Willie Mack and Rich Swan Defeated oVe
I feel like this seemed to be a story that was going somewhere, and this week it doesn't feel like it's going anywhere anymore. Rich Swann and Willie Mack had some tension about Rich's connection to oVe, but now that Rich has explained that whole history, they seem to be totally fine. And that would work better if we'd seen them hash it out, but we really didn't. This match between them and the Crists is quite good, but at the same time it's just another example of wheel-spinning.

Trey Miguel Defeated Rohit Raju
Speaking of wheel-spinning, here's a singles match for no particular reason between two guys whose teams fought two weeks ago. I've come to like Trey Miguel a lot, and Rohit Raju is fine, but like, what are we doing here? What's going on?
Sami Callihan Defeated Puma King
Well if you're going to have meaningless matches just to while away an episode, at least involve a cool luchador who we don't see that often. These two are both involved in next week's "World Cup" match between Team Impact and Team Triple A, so we are at least building up to something, even if that something also doesn't really mean much? Still, there's a big cat man, so that's something.
Lucha Bros Defeated LAX for the Tag Team Championships
Finally, something happens. Specifically, a team who made news the night before for being involved with AEW won the Impact Tag Team Championships. I had assumed that Penta and Fenix were on their way out of Impact, but if Impact is able to keep their talent-sharing deal with Triple A (which the latest reports seem to indicate) while AEW has a similar deal, maybe the Lucha Bros can do both? I suppose we'll find out.
In any case the match was great, as you'd expect from four guys this talented. I don't know that it was better than their match at Homecoming, but it definitely felt bigger and harder-hitting, as it generally should when you're doing the same match for a second time. Now that they've fought twice and the Lucha Bros have the titles, I hope they get to defend against some other tag teams, instead of continuing to feud with LAX. The two teams have great chemistry, but once again I insist on forward momentum, no matter how reluctant Impact seems to give it to me.

That's all for this week's Knockout Report. Join me next week for the Uncaged event, where Johnny Impact, Brian Cage, Killer Kross, and Moose all compete for the Impact World Championship, while Taya Valkyrie and Tessa Blanchard have a Street Fight for the Knockouts Championship.