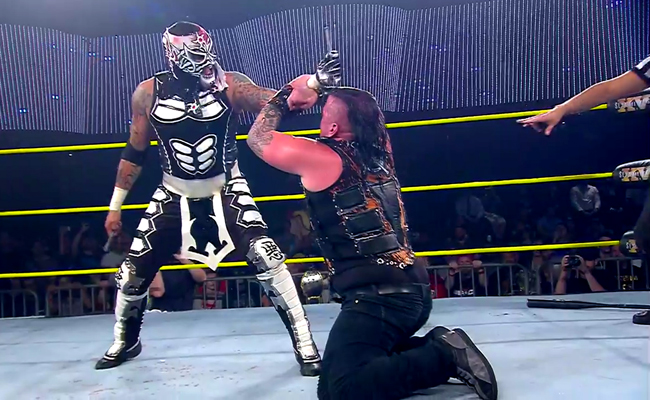 Hello Impact fans and curious rubberneckers! I'm Elle Collins, and this is the Knockout Report for the sixteenth annual Slammiversary pay-per-view, which was live from the Rebel Complex in Toronto. Since this is such big show (and a great show, but I'll get to that), I'm not splitting the divisions up like I usually do, and instead doing my best to give all the matches equal weight. You can follow me on Twitter here, With Spandex here, and Uproxx here. You can watch the weekly Impact Wrestling show on Pop every Thursday at 8 p.m. Then on Fridays, read the regular edition this column and share it with everyone you know (do that with this one too).
Without further ado, here's the Knockout Report for Slammiversary XVI.
Johnny Impact Defeated Taiji Ishimori, Fenix, and Petey Williams
This match was just here to kickoff the show with something fun, and it was great for that. Petey Williams replaced an injured Rich Swann at the last minute, and while his red Sonya Deville warskirt stood out among three guys in shiny black pants, he was a great edition. Johnny's victory was pretty inevitable, since he's returning after an absence and needs to re-establish himself as a force to be reckoned with.
Fenix was the most exciting guy in the match, however, which to be honest is not unusual for him. He looked fantastic in his black gear highlighted with fiery orange, and his high flying moves were as impressive as ever. Watching him deliver a fantastic hurricanrana off the ropes and then immediately take a great-looking tiltawhirl headscissors from Williams really drove home how talented this man is. With this show's elevation of Pentagon as an Impact character (we'll get there), I hope Fenix follows his brother into the Impact spotlight. At the very least, this man needs a match for the X Division Championship sooner rather than later.
I didn't really know Ishimori very well going into this show, but he was great here. And of course Johnny Impact/Mundo/Morrison was great as always, so his victory was justified. All in all, it was an exciting start to a great show.
Tessa Blanchard Defeated Allie
From the time she arrived in Impact, it's been clear that Tessa Blanchard is going to be a huge star. This match feels like the moment that cemented her rise. After some improbable losses to Madison Rayne (which ultimately just paved Madison's road toward a coffin, but we'll get to that), Tessa won a hard-fought but definitive victory against the true top babyface of the Knockouts Division, Allie. Although it wasn't an official stipulation, this surely has to make her the presumptive #1 Contender for the Knockouts Championship. And yes, that will technically be a heel versus heel fight, but Tessa and Su Yung are such different kinds of heels that it will make for a fascinating matchup. But I'm getting ahead of myself.
Allie debuted her new "the Bunny wears black now" ring gear, which was a relief after she spent the last TV Taping wrestling in plain leggings and a cut up T-shirt. The gear looks great, and I particularly love how the black vinyl is not only highlighted with a bright cyan color, but those highlights contain black polka dots. It's the perfect visual balance of Allie's new edge with her continued cuteness. With Allie in black, Tessa's red gear provided the perfect contrast. I like that Tessa's gear never varies that much, because that just contributes to her image as an old school heel descended from old school heels.
Allie gave it her all, and got some good offense in against Tessa. In fact, she almost could have had it in the bag when she hit her Codebreaker, but Tessa rolled out of the ring to avoid the pin and it worked. Tessa knows when escape is the best option, but she's no cowardly heel. In fact, I think she utilizes how physically imposing she is better than any other female wrestler on American television. Once Allie fell victim to a Hammerlock DDT, Tessa's victory was secured.
Eddie Edwards Defeated Tommy Dreamer in a House of Hardcore Match
For those of us who were never ECW marks, it's easy to be dismissive of Tommy Dreamer, especially these days. He's obviously past his prime, and as far as technical wrestling and mic work, his prime was maybe a bit questionable too. He's also weirdly hard to escape in this late era of his career—in just the past few years he's shown up for at least a guest appearance in every promotion I pay attention to that isn't exclusively women. It sounds like I'm disrespecting the Innovator of Violence here, but I'm working up to saying that this was a really fun hardcore match, and Dreamer has done a great job with everything he's been given throughout this storyline, as has Eddie Edwards.
When Edwards started giving in to his most violent impulses against Sami Callihan, Dreamer spoke to him like a recovered addict about how he needed to resist the temptation of extreme violence, or risk destroying himself along with his opponent. He presented himself as a mentor who'd been through all of this, and that was believable because we all remember what he was doing in the '90s. When Edwards repeatedly responded to his attempts to help by lashing out, and then when he turned up at Dreamer's own promotion, beating the older man with a kendo stick and accusing him of sleeping with Eddie's wife Alisha, Dreamer was done. He may be a more serene and balanced hardcore wrestling promoter these days, but once his patience runs out he's not afraid to get out the staple gun and put some metal into a younger guy's head.
The most interesting part of this match was the end, when the nominally victorious Eddie broke down crying over how much he's ruined his life. Alisha Edwards came out (although notably she never got too close to her estranged husband) and demanded that the two men shake hands and make peace, which they did. Then just as it looked like they were going to fight again, Tommy ceremoniously handed the kendo stick to Eddie and left. I don't think Eddie Edwards is recovered from his breakdown, he just has Tommy Dreamer's blessing to be the next generation of Innovative Violence.
Brian Cage Defeated Matt Sydal for the Impact X Division Championship
There was some great wrestling in this match, but let me get the important stuff out of the way first: I'm not into Brian Cage's hair right now. He looks great with his mohawk, but if he's going to grow his hair out, he definitely needs more hair than this. High-and-tight fauxhawk is not the look. Not that Brian Cage could ever look bad, of course, but the close-cropped sides and back make this guy who's constantly introduced as a freaky mutant look too much like a respectable member of society.
Despite those concerns, it was great watching Cage take down obnoxious yoga guy Sydal and win his first belt in Impact. Matt Sydal said in the lead-up to the match that Cage's muscles didn't matter because the most important of Sydal's muscles is his third eye. That sounds like he doesn't understand what muscles are (or possibly eyes), but everything out of his mouth is so perfectly nonsensical in the manner of an appropriative white mystic that it was actually the best thing he could have said. While he got in a few good spots here, he obviously learned the lesson that physical muscles matter more in wrestling than imaginary body parts.
Cage's rise is too well-paced to be meteoric exactly, but it is an inescapable march that's going to lead him past the X Division to Austin Aries and the World Title. That raises the question of who's going to manage to take this belt off of him and how. The X Division Championship isn't technically a cruiserweight belt, but that doesn't change the fact that Cage stands out from the rest of the guys in the division like Buddy the Elf at the North Pole. Staying a babyface while defending this title may prove a challenge, but it's going to be a lot of fun to watch what happens.
Su Yung Defeated Madison Rayne to Retain the Impact Knockouts Championship
First of all, everything about Su Yung's entrance was perfect. Her creepy theme music, the green and blue lighting, and the disaffected zombie walk of her Bridesmaids as they entered carrying a coffin led up perfectly to the moment we knew was coming, when that coffin opened and Su emerged, holding her Title up to the sky. Then something surprising happened: Madison Rayne got things started early, attacking Su before she could even reach the ring. That's the kind of initiative Madison needed if she wanted to have any hope of defeated a literal supernatural monster like Su Yung.
For a few minutes, it seemed like defeating that monster might actually be a possibility for Madison. Friends who've watched Impact for a lot longer than I have commented that this was the best in-ring work they'd seen from Madison Rayne, and I can confirm that she definitely seemed to be giving this match her all. Even when the Bridesmaids tried to interfere, she was unfazed. Ultimately though, despite the title of last week's column, she was never the Final Girl of this horror movie. After she got a couple of near falls, just as she was about to hit the CrossRayne, Su shoved her hand, disgusting glove and all, into Madison's mouth and took her down with the Mandible Claw. It's not pretty to look at (which is, of course, the point) but it's effective.
The Blood Princess of Impact did what she does, and put the unconscious and defeated Madison into Chekhov's Coffin, and then climbed on top of the lid to creepily celebrate her victory. This raises questions: Is Madison dead now? Is Su going to take her coffin out into the woods and burn it? Is Madison, who lacks the demonic protection that Rosemary and by extension Allie have, going to return as some kind of minion of Su? Creepy zombie Madison Rayne is honestly so hard to imagine that it makes me want to see it. Plus that would give Su a better tag team partner for the immediate future than Unknown Zombie Bridesmaid #1. Whatever happens, Madison's vision from last week came true. She wasn't the Final Girl, she was a victim. As a certain other zombie wrestler is fond of saying, rest in peace.
LAX Defeated the OGz to Retain the Impact Tag Team Championships in a 5150 Street Fight
The problem with LAX vs LAX, for me personally, isn't that I don't like LAX. It's just that I don't really care for Konnan, King, or the OGz. Santana and Ortiz are great, and that's why I was particularly thrilled to see them retain against their predecessors here. And if Konnan's beatdown after the match takes him out of the picture at least for a while, that's even better. Bring Diamante back and let her manage Santana and Ortiz. That's an LAX I could really get behind.
The tag champs looked great too, with their facepaint and Puerto Rican flag arm sleeves. As far as the match itself, it was a giant mess, but in that fun way that a Tag Team Street Fight should be. From the table spots to the thumb tacks, I can't remember a Street Fight quite this wild since that time Ronnie Garvin dressed up like a lady and Jim Cornette lost his pants. The only part of this I didn't like was the OGz spray painting the Tag Titles like they're the NWO. It just seemed silly and unnecessary, and King's dainty little mini spray can didn't help.
Pentagon Jr. Defeated Sami Callihan in a Mask Vs Hair Match
Railroad spikes, y'all. Railroad spikes. This was the third No-DQ match of the night (or however you want to label it—House of Hardcore, 5150 Street Fight—the point is there were three matches where guys could attack each other with objects). We'd already seen Eddie Edwards take a staple gun to the head and a bunch of guys land on thumb tacks and tables. So when it came time for a lucha de apuesta match between two guys known for their brutality, they had to step it up a bit. So yeah, Sami showed up with a couple of railroad spikes with which to hurt our favorite ninja skeleton. Naturally, this led to Pentagon brutally hammering one of those spikes into Sami's forehead.
I knew this was going to be a great match at its very beginning, when Sami kicked Penta in the face and you could see spit from the luchador's mouth fly five feet straight up in the air, but that's nothing compared to where the match would soon go. Even the spit got much grosser after that, thanks to an apparently congested Callihan.
Pentagon Jr. is always a thrill to watch, but he's never been quite as impressive in Impact as he is on Lucha Underground. That changed with this show. This is the terrifying Pentagon who everyone fell in love with when LU first began. This is the Pentagon who will break your arm if you look at him funny. In fact, he broke the referee's arm after Sami temporarily blinded him with white powder. He thought he'd caught Sami, and by the time he got his bearings it was too late. The match continued, because when Impact says No Disqualifications, they apparently really mean it.
We all knew going in that Sami was losing his hair, because there was no way Pentagon was losing his mask (and certainly not in Canada). Still, the match was so strong that there were moments of suspense when it seemed like Pentagon might actually lose. Also, the luchador's blood gradually soaking through the white parts of his mask is an unforgettable image. Naturally when he lost, Sami tried to escape his fate with the Crist Brothers' help. But once Fenix and a bunch of security guys came out, Penta got the pleasure of shaving off Sami's greasy mohawk. The only disappointing thing was that he didn't shave the man's beard as well, despite the crowd chanting for him to do so.
Austin Aries Defeated Moose to Retain the Impact World Championship
I was rooting for Moose here, especially after the surprisingly good promo he gave to Alicia Atout early in the show (and that fantastic silver blazer he was wearing when he gave it). The cool thing, though, is that this World Championship match was the most unpredictable match on the show, in terms of who would win. I thought this might be Moose's moment to rise up and become the undisputed Mister Impact, but it made sense and didn't upset me when Aries beat him. Moose can call himself whatever he wants, but Austin Aries is face of this company (heel though he is), and he's not letting go of the belt anytime soon. Probably not till Brian Cage finds his way to the main event, if I was guessing.
This was a hell of a fast-paced match, with Aries never letting the bigger man get a moment's respite. Despite it following Pentagon and Callihan, which was obviously the match of the night, the crowd was hot for this, making more noise than I've heard for a PPV main event in a very long time. Aries seized every opportunity, hitting Moose with a Death Valley Driver on the apron and then a Brainbuster on the floor. With offense like that, it didn't feel cheap when he retained against a much larger opponent. Moose came out of the match looking strong, as he should, but Aries came out World Champion. Like him or not, Austin Aries is a hard man to beat.
It's Time to Accept Some Truths
Wrestling fans make fun of Impact a lot, often without having seen it anytime recently. That's unsurprising, and I get it. This is a company that has made a lot of bad decisions over a lot of years. Still, as I and others have said, Impact Wrestling is quite good right now, whether people want to accept that or not. And on that front, this show feels like a turning point, if anyone bothers to sit up and notice.
I like to embrace positivity in my wrestling writing, and the Knockout Report has never been about putting down any company or comparing Impact's product to WWE's. Nevertheless, I have to say it: When was the last time WWE had a main roster PPV where every match was good, and no result was infuriating? Slammiversary XVI was the best pay-per-view I've seen in 2018, and aside from maybe a Takeover or two, I'm having a hard time thinking of anything that was better in 2017 or 2016.
This was a fantastic evening of wrestling, in which every match (except the Fatal Four-Way, which was just there to be fun, and was) paid off a storyline that made sense, and had the ending that the storyline needed it to have. It was also just under three hours long, and the World Title was in the main event. I enjoy WWE and obviously I'm going to keep watching their shows, but just so you know where I stand, there is what mainstream wrestling should be.
That's all for this special Knockout Report. Join me on Friday, when the fallout begins!