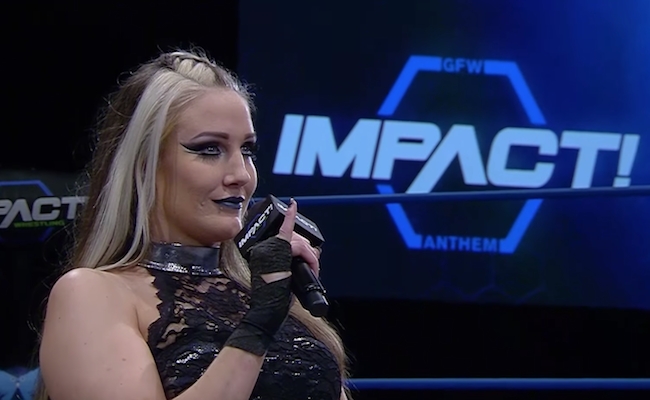 Impact Wrestling has been partnering with a slew of companies over the past year after its changeover in ownership and a host of moves designed to help rehabilitate its image and set the company up for the foreseeable future. Impact's latest foundation-building move comes in the way of developing female talent and original content through a partnership with RISE, an Illinois-based women's wrestling promotion.
The move follows announcements ranging from Impact creating a Twitch channel, partnering with AAA, moving operations largely to Canada, and teaming up with Lucha Underground over WrestleMania weekend.
Here's more on Impact's partnership with RISE, via a press release:
"IMPACT Wrestling announced today a partnership with Illinois-based RISE to host seminars with a focus on developing women's professional wrestlers, as well as the creation of original content for IMPACT Wrestling's Twitch channel (www.twitch.tv/impactwrestling) and Global Wrestling Network (GWN) multi-platform digital service.

On May 11 in Pittsburgh, PA, IMPACT Wrestling and RISE will present RISE – Lights, Camera, ACTION: The Art of TV! The full-day seminar will focus on areas specific to performance in a television environment and cover a wide variety of topics by some of the most influential minds involved in producing IMPACT Wrestling, including writer/producer Jimmy Jacobs, Creative Director Sonjay Dutt, Hall of Famer and Knockouts producer Gail Kim and Executive Vice President Scott D'Amore. The seminar will provide education and exposure for the RISE roster and its prospective talent pool.

On May 12, several episodes of RISE – ASCENT will be taped for premiere in May on RISE's new streaming platform www.riseascent.com and future broadcast on GWN. Several prospects will be selected from the seminar to be part of the new weekly series where they will perform alongside the likes of Phoenix of RISE Champion Delilah Doom, SHIMMER Champion "The Queen of Suplexes" Nicole Savoy, Jessicka Havok, Tessa Blanchard, Shotzi Blackheart, Britt Baker, Dust, Mercedes Martinez and more.

IMPACT Wrestling Knockout Sienna will serve as a color commentator for RISE – ASCENT. In addition, one talent featured on the RISE – ASCENT series will be selected for an opportunity to perform for IMPACT Wrestling at an upcoming event."
To take further steps in developing as a brand, Impact needs some semblance of a feeder system. With the boom of excellent women's wrestling, seemingly using RISE as that feeder system can only benefit both promotions.
"We are delighted to partner with RISE on the development of new women's talent, reinforcing our commitment to the trailblazing Knockouts division," said Scott D'Amore, Executive Vice President of IMPACT Wrestling. "RISE was founded on the principle of talent development, so we will combine our efforts to foster the next generation of women's professional wrestling stars. We are also committed to collaborating with RISE on innovative content for our viewers on Twitch and GWN, where subscribers can already access events from the RISE catalogue."
With the creation of paid subscriber-based models for programming in WWE and Ring of Honor, it will be interesting to see if Impact's free streaming Twitch model can start to develop traction as far as consistent interest and returning visitors.