Hey, did you know Jerry "The King" Lawler once lent his name to a wrestling-themed fast food burger restaurant in the 1970s called "Slamburger?" Did you also know that the items on the menu included items such as a "Gibroni Burger," "Banana-Nosed Hot Dogs," and Cherry Tarts? It's true!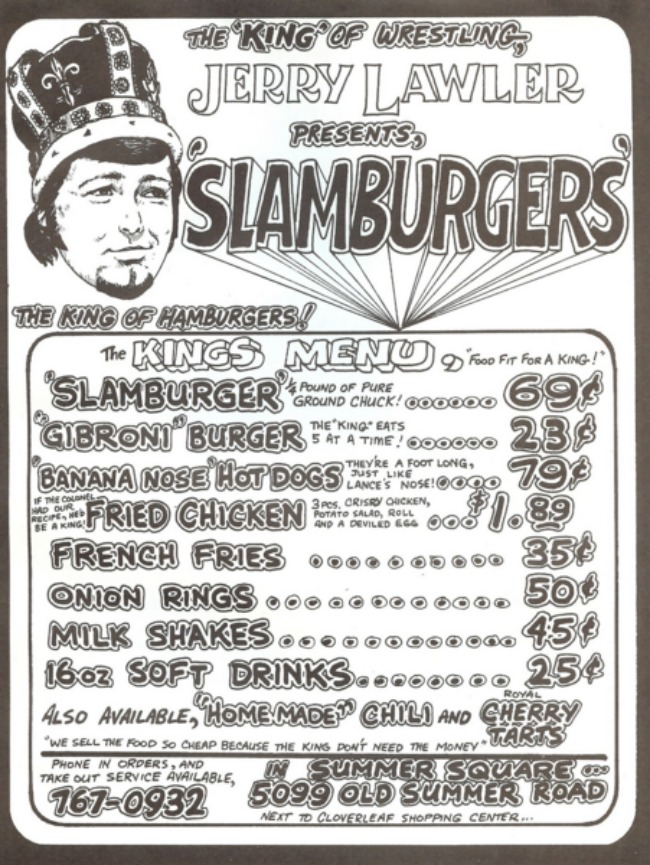 Of course the burger cost 69 cents, this is Jerry Lawler we're talking about.
King didn't actually own Slamburger, he only let them use his image and likeness for a cut of the profit, but now, four decades later, The King apparently wants to get back into the restaurant business. According to The Commercial Appeal, Lawler is attempting to build a wrestling-themed bar and grill on Beale Street in his hometown of Memphis, Tennessee.
Believe it or not, there are actually several wrestling-themed restaurants out there, including The Squared Circle in Chicago, which is partially owned by Lisa Marie Varon, also known as former WWE Women's Champion Victoria. There is also the hilariously named Abdullah the Butcher's House of Ribs and Chinese Food in Atlanta owned by the WWE Hall of Famer himself.
This still seems like a bad idea on paper, but if anyone could make it work, it's the King in Memphis. Just make sure no one reminds him of WWF New York.