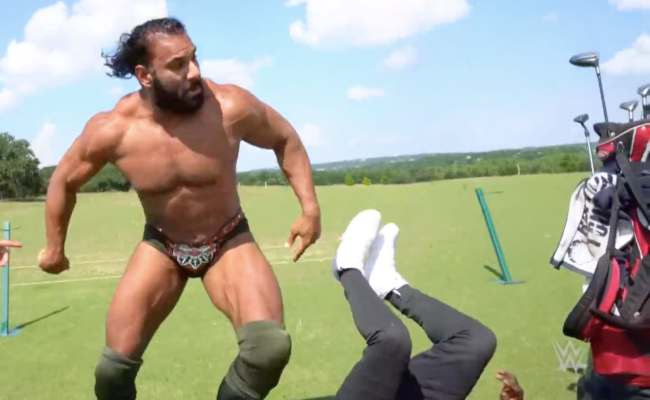 Jinder Mahal's WWE career has had its ups and downs. After leaving the company in 2014 and returning in 2016, he had a controversial run as WWE Champion in 2017, only to lose the belt to AJ Styles right before he was scheduled to defend against Brock Lesnar, have an eight-day reign as US Champion, and get pushed back down to the undercard. More recently, he's been a two-time 24/7 Champion, winning the belt from R-Truth first on a golf course and then at an airport, but losing it quickly back to him both times. Now it appears that Mahal will be out of action for a while.

As reported first on his Instagram and then on WWE.com, Jinder Mahal underwent knee surgery to repair a ruptured patellar tendon. The injury apparently happened in a match against Ali at a WWE Live Event in Denver on June 15. In his post, Jinder said that "surgery went well, and my knee was better than expected." Neither Mahal nor WWE even hinted at an official timeline for his recovery and return to the ring (or wherever the 24/7 Championship might be fought over by that time), but Jinder did add "This comeback is going to be legendary."
It seems like Jinder Mahal is in good spirits about the whole thing, and we here at Uproxx wish him a swift recovery, so he can get back to lurking around golf course in wrestling gear.