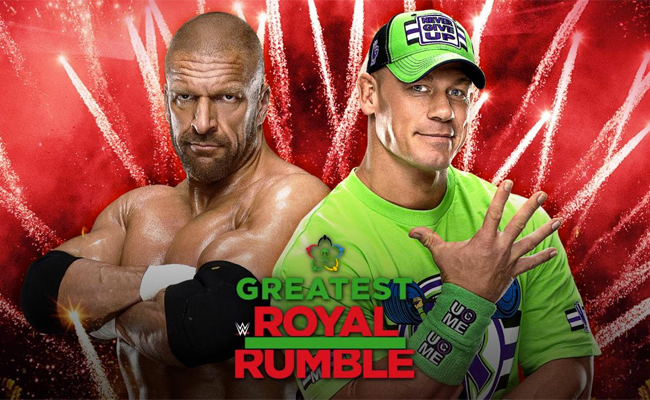 More details have emerged about the Greatest Royal Rumble, a huge show WWE is putting on in Saudi Arabia on April 27. In addition to the 50-man Royal Rumble Match and seven title matches, the card will also feature a match between John Cena and Triple H.
Since everything about this show seems calculated to be as big as possible, a match between two top stars who are still wrestling but have mostly passed their title-holding days is the perfect addition to all those title matches.
Speaking of which, WWE's announcement also revealed some details about two of the title matches:
Additionally, the Greatest Royal Rumble event will feature an Intercontinental Championship Ladder Match: Seth Rollins vs. Finn Bálor vs. The Miz vs. Samoa Joe, and a Raw Tag Team Championship Match: The Hardy Boyz vs. Sheamus & Cesaro. A Ladder Match is when a championship title is suspended above the ring, and the first Superstar to climb to the top of a ladder and retrieve the title is the winner and champion.
The Intercontinental Match involves all three of the guys competing for it at WrestleMania, so no spoilers there, but the Raw Tag Team match does seem to imply that Braun Strowman and his partner will fail at WrestleMania, but of course these cards are always subject to change.
As for women's matches, it appears there won't be any. WWE hasn't addressed the subject at all in their official announcements, but Chris Harrington of Wrestlenomics reports that he asked WWE directly, and received an unambiguous response.
Considering WWE only held the first women's match in the United Arab Emirates late last year, it's not too surprising that Saudi Arabia hasn't gotten there yet. WWE has a 10-year deal to keep doing these shows, so maybe they'll push that envelope in future years.
Whether WWE can meaningfully champion the r/evolution of women's wrestling while having no qualms about putting on high-dollar shows in countries that won't even allow women to participate is certainly a question worth asking.