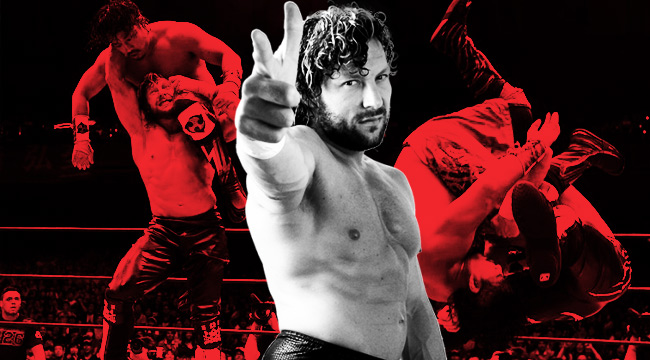 On Sunday, New Japan will unleash Strong Style Evolved in Long Beach, California. Last year's two-night NJPW event in Long Beach was a thunderous success, and this year they're running in an arena twice as big and unveiling their new Los Angeles-based dojo, to boot.
That card will be headlined by an absolute dream match, pitting the Young Bucks against the Golden Lovers of Kenny Omega and Kota Ibushi. The Golden Lovers were the subject of much fawning both at With Spandex and abroad when they reunited, and Omega is definitely excited about getting the team back together.
We talked to Omega this week, and while he gave his thoughts on a whole host of subjects that will be part of a future episode of McMahonsplaining, the With Spandex Podcast, but given the massive pro wrestling news this week of Daniel Bryan returning to action, and the big event coming up this weekend, we wanted to get at least a portion of this interview out to you now.

WITH SPANDEX: You're coming back to Long Beach this year, and what to you have been the changes in New Japan? Do you feel like it's different or that it's bigger just from last year to this year?
Kenny Omega: I definitely feel like there's a sense of us having grown as a company. I think that we had a really great introduction into the US market, and I feel that even though we haven't quite gotten the balls that I think we should have to do more in America, we're going after it this time around. Bigger building. They're giving the crowd bigger matches.
I mean, the Golden Lovers versus The Young Bucks, it's a dream match, and New Japan wasn't shy to give our great American fans that match, so I do feel that not only are we kind of more aware of the company, that we can do this worldwide thing, but we also are very appreciative of our worldwide fans, too. We're not just showing up here for a house show. You know what I mean? We're showing up here to have standout performances, and I think that's really important.
Do you think that was a little bit early for the first Bucks versus Lovers match, or is this the timing that you wanted for it?
Oh, no, way too early, of course. Way too early. I mean, [the Golden Lovers] just got back together. You know what I mean? We haven't found our timing. We haven't found our pacing. I remember speaking with Ibushi before the ROH matches, and we're like, "Okay. What were our double team [moves] again?" You know what I mean? We're kind of writing a little list of the things we used to do, and we're like, "Hey, remember when we used to do this and that," and we're like, "What was this and that?" We couldn't even remember. So, we haven't even had time to dig through the vaults and remember what we used to do, and we haven't had time together to sit in a room and come up with some new stuff to do.
So, of course we've been in touch and we've been talking about ideas, so we do have ideas, but it's like we haven't had real time together in a dojo or our training facility to try them out, so I would've liked to have been completely 100 percent prepared, but right now it's just ideas. They are ideas on the table. If they work, they work. If they work, we're gonna look like geniuses, and if not, who knows, but yeah, I would've like to have been more prepared for this match as a tag team, but we're getting tossed from the frying pan into the fire real quick, and it's gonna be a real test.
I have to ask, since it's on everybody's mind right now, what are Kenny Omega's thoughts on Daniel Bryan being said to return?
I mean, it's one of the feel-good stories of wrestling of the year, that's for sure. I don't think there is one disappointed person that he's coming back to the ring. I wish him all the best.
I mean, you always hope that as a fellow performer that he doesn't push himself too hard too soon, because I think even the fans now, they want to see him happy and healthy, and they want to see the Daniel Bryan they know and love doing what he loves in the ring, and whatever it is that he does at WrestleMania, I hope it goes off really well, without a hitch, and that he has the time of his life, and the crowd there enjoys it.
He's one of the guys that I've had the privilege of wrestling, I think, only one time in a singles, and that's a moment I'll never forget.

Yeah. We had a couple multi-mans and such throughout ROH, and who knows? If this is gonna become a full-time thing for him again, I'd love to run into him down the line. He's one of those guys that I would love to mix it up with, and even though I loved our first singles match, I'd love to do it again and make it a little different. You know?
Yeah, now they're Kenny Omega he's Daniel Bryan.
Yeah. With our life experiences and everything that we've learned and how we've grown up to this point, the current day Daniel Bryan versus Kenny Omega could be pretty interesting, so … But again, the name of the game is health, and I just wish him all the best.
Keep an eye out for the full interview with Kenny Omega, which will be coming soon to the With Spandex Podcast.