Yesterday, we reported that the flu that kept Enzo Amore from competing on Raw would also keep him out of WWE's upcoming Facebook Watch-exclusive Mixed Match Challenge, and that he would be replaced by current Raw GM Kurt Angle.
We may have jumped the gun on that, though, as it turns out what Kurt meant was that he, as acting GM, would have to find a replacement for Enzo Amore. Or at least, that's what we've been told the tweet means, via the latest Wrestling Observer Newsletter.
So, if you're like me and hoped to see Kurt Angle and Asuka just absolutely wrecking everyone, or teaming up and cosplaying as Sasha Banks like when he joined the Shield, you'll have to manage your expectations.
Now the question becomes: who is going replace Enzo after all? My list of preferred competitors is as follows:

1. Drew Gulak
Besides Drew Gulak just being the best at everything, it also makes logical sense that he would attempt to pick up the slack for his mentor and best friend. If he was paired with Nia Jax, they could further the Nia/Enzo thing with Drew being the oblivious friend who keeps getting in the way. Plus, I'm sure Drew has some thoughts on making a better Mixed Match Challenge.
2. Elias
Who wouldn't want to walk with Elias? Elias is another guy that elevates everything he touches. I'd love to hear all the new songs he'll write about how terrible his opponents are. Plus, he and Bayley already have such great chemistry.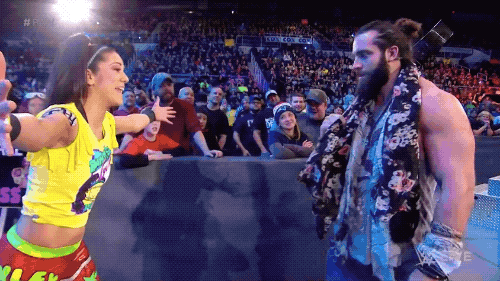 3. Brock Lesnar
Ha. Gotcha.
3. Bray Wyatt
I know Bray is busy having laugh battles with Woken Matt Hardy, but I can think of nothing better than Bray and Alicia Fox as mismatched partners who just really get each other.
Let us know who you think should be Enzo's replacement in the comments below, and be sure to watch WWE's Mixed Match Challenge exclusively on Facebook, Tuesday nights beginning Jan. 16 at 10 p.m. ET.
This week's McMahonsplaining podcast is must-listen. Subscribe on iTunes or Google.