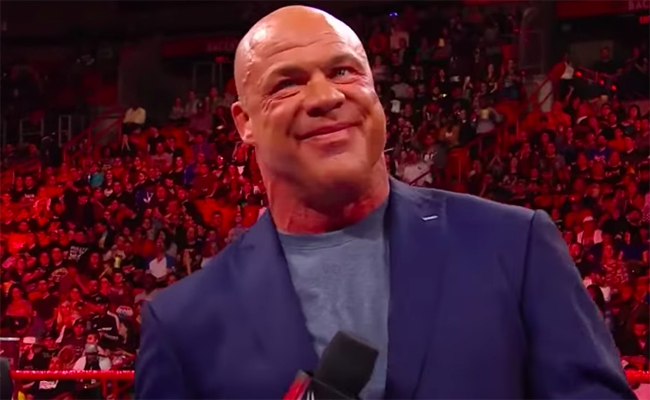 When it rains, it pours. We spent the first several months of Kurt Angle's return to WWE wondering if he would wrestle again, and if so, who he would wrestle. Then, when it seemed like we were going to have to wait a real long time for that to actually happen, everyone on the roster got very sick and he had to make his return to the ring as part of the Shield's non-reunion (which is still in the throes of not happening).
Angle also took part in Survivor Series as part of Team Raw, and appeared to sow the seeds for an eventual WrestleMania match against Triple H (perhaps). And we're all still kind of wondering why Angle has been cleared by WWE doctors while Daniel Bryan hasn't. But now he's getting back in the ring, again, for several more matches … once again due to an illness on the roster.
Enzo Amore was pulled from Raw and 205 Live this week because he was hospitalized due to the flu. Despite Zo's best efforts, he wasn't cleared to wrestle and defend his Cruiserweight Championship on WWE Raw on Monday, as scheduled. He has also apparently been pulled from WWE's upcoming Mixed Match Challenge series, which debuts on Facebook Watch on Jan. 16.

Luckily, Angle has once again come to WWE's rescue. On Tuesday night, the Raw general manager tweeted that due to Amore's flu, the WWE Hall of Famer "must" replace him in the Mixed Match Challenge.
Many assumed Amore might wind up as part of a mixed tag team with Nia Jax, his current love interest over on Raw. If Enzo has been pulled from at least the opening weeks of the MMC, he will likely also be missing (at least in literal action) from a few episodes of 205 Live, which will be pushed back during the weeks that the MMC airs.
So Kurt Angle will be wrestling in the mixed tag team tournament. Rejoice to whatever extent you feel appropriate, and start wondering like crazy who his teammate is going to be.