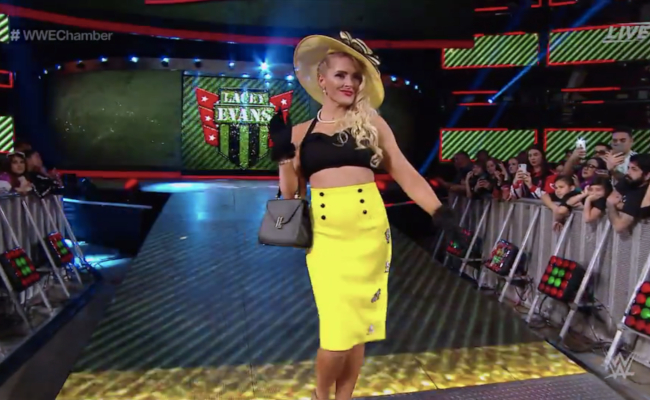 Last night at WWE Elimination Chamber, pretty much everyone was confused about why recent NXT call-up Lacey Evans, who hadn't been really seen since she was the first entrant in this year's Women's Royal Rumble Match, walked down the ramp with a smug smile on her face as her entrance music played, and then turned around and walked back out again. She hadn't been announced for the PPV, and they didn't even pretend she was about to do anything and decided against it. She just walked in and walked out, in a black and yellow outfit and wide-brimmed hat.
Lacey made her own comments about the moment on Twitter, but aside from her usual character work they didn't add up to much.
According to Dave Meltzer at the Wrestling Observer, the goal of the segment was to expose her to as many viewers as possible, and establish her as a woman to watch going forward. This is a step, Meltzer says, toward giving Lacey a planned "super big" push. It's only been a couple of months since we heard that Mandy Rose was next in line for a huge push, and although she and Sonya Deville were the last ones eliminated from the Women's Tag Team Elimination Chamber Match, not much seems to have come of that. We'll see what happens with Lacey, but after Lana, Emmalina, and so forth, I'm taking all stories like this with a grain of salt.