Mandy Rose may not have made it to the top of the WWE Women's Division just yet, but she's doing pretty well for herself. Fire & Desire, the tag team of Mandy and her real-life best friend Sonya Deville, has a match against Women's Tag Team Champions the IIconics next week. They also have their own YouTube series about eating donuts, and Mandy just made the cover of Muscle & Fitness: Hers. Mandy has some projects of her own coming (more on those later in the interview), and With Spandex had a chance to sit down with God's Greatest Creation and chat about her friendship and inevitable feud with Sonya, that possible romance angle, and who she'd really like to wrestle.

With Spandex: So obviously you're a real person, just like the rest of us. So I have to ask, is it ever just weird to hear yourself being called things like "God's Greatest Creation?"
Mandy Rose: It's definitely… to be honest, I feel like it's not weird to me, because I guess as a WWE Superstar and a larger than life character on TV, you kind of just develop these nicknames, or these character names, and it just goes with your character. It goes with who I am. So we always say, as WWE Superstars, "it's Amanda times a hundred," that's who Mandy Rose is. So there's always real life things that develop who we are, so it's not weird to me. Of course I'm a real person, like you said, so it can sound weird, but I feel like I just get used to it, you know?
When you talk about the difference between Amanda and Mandy, it makes me think about what it must be like having the same best friend on and off the show, your tag team partner Sonya Deville. Does that line between real and wrestling ever make your friendship confusing?
No, my relationship with Sonya is very real, on and off the screen. Obviously we are best friends off of TV and we have been since we met, so we try to keep everything as real as possible, even when we're on TV, with our characters, because that's the most authentic and real to the fans.
So it hasn't gotten complicated between the two of us really, ever. We have a very interesting dynamic where we understand the business. We understand how it works, and we're so lucky to have each other because obviously it's hard to find real, true friends in life in general but especially in business that's super competitive and ruthless. So it's really good that we have each other, and have that support. That we can go to each other with anything, and drive to shows together. So it's never gotten complicated, ever, with the two of us. I hope it never does, because we have a great relationship, and I hope it never gets like that, because we want to continue our friendship. It's everlasting, outside of WWE as well.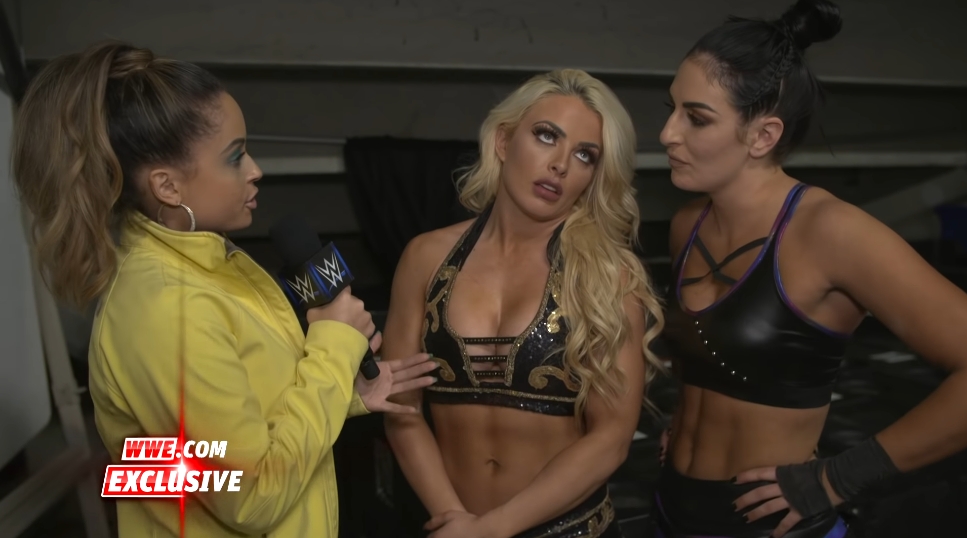 This week on Smackdown you and Sonya had a big moment when you revealed that Fire & Desire has a match with the IIconics next week… I think it's for a title match?