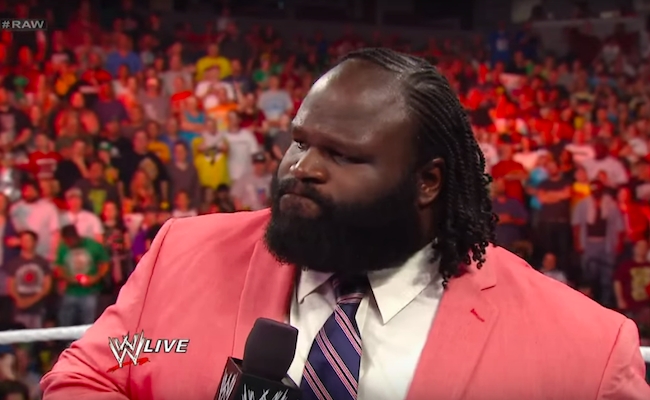 After spending his entire 21-year wrestling career with the WWE, Mark Henry was inducted into the 2018 WWE Hall of Fame Friday night in New Orleans. Henry will likely be most beloved and remembered by hardcore fans for his spectacular 2011 World Heavyweight Championship stint, and his salmon jacket fake retirement promo in 2013, arguably one of the best moments in recent WWE history.
In his pseudo retirement, Henry got emotional on the mic and talked about retiring from in-ring competition. Just when he had the audience in his massive hands, he turned on John Cena with a thunderous World's Strongest Slam, tearing off his suit jacket and ripping away at his shirt.
Henry's 12-year-old son followed suit, literally, with a spitting image of his father's most memorable moment in a WWE ring at his father's induction ceremony.
Henry donned the infamous jacket on Friday night as well. Thankfully, Henry didn't slam Cena (or anyone else) through the stage:
Henry's one-of-a-kind career transcended WWE, with incredible success in powerlifting competitions before and during his sports entertainment run. One year after inducting opponents into the Hall of Pain, he was inducted into the 2012 International Sports Hall of Fame by Arnold Schwarzenegger.
Overall the veteran pro wrestler, Olympic weightlifter, strongman and former world champion will be remembered for his ability to transition across multiple sports seamlessly, living up to his moniker as the World's Strongest Man.
Congratulations to Henry and all other WWE Hall of Fame inductees.