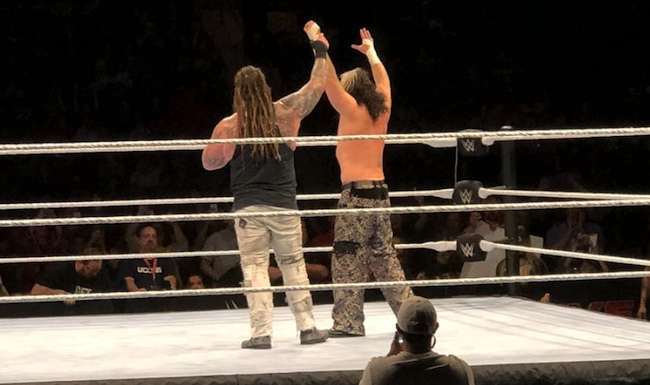 The Hardy Boyz return to WWE at WrestleMania 33 was among the highlights of the night, as Matt and Jeff Hardy returned to their old stomping grounds in a ladder match, capturing the tag titles.
In the year-plus that the Hardys have been back in WWE, it's been a bit of a rollercoaster for both, with high points of that tag title win, Matt finally bringing the Broken Universe to WWE, and Jeff picking up the United States Championship. However, both have battled injuries and out of ring issues, with Matt having the most severe problems as his pelvis and spine have begun fusing together, leaving his future in the ring in serious question.
Hardy has hinted at his retirement in recent weeks, but nothing has been made official just yet. There were reports he was working last Monday at Raw in a backstage capacity, as he may be looking to transition into a new role with WWE. On Sunday, Hardy made an appearance at a WWE Live event in Rochester, where he and Bray Wyatt wrestled and after the match Wyatt raised Hardy's hands as he got an ovation from the fans.

Hardy himself referred to it as a "send off" and thanked the fans in a tweet that seems to signal the end of the road for his wrestling career.
One would expect there to be something bigger for an official WWE send-off for Hardy at some point, but if it is indeed the end, the next stop is likely the WWE Hall of Fame for Matt Hardy — although they might wait to put he and Jeff in as the Hardy Boyz together.