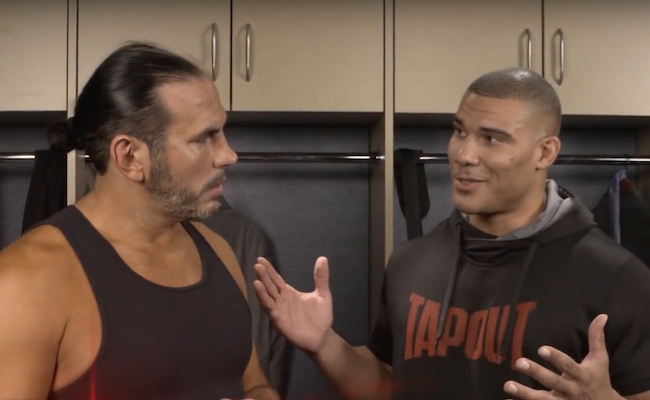 Less than a year after Jason Jordan seemed to be elevating his game to the best we'd seen on the main roster and Matt Hardy prepared to bring his Broken universe to WWE, injuries and setbacks have derailed their momentum to the top of the card. Even worse, in recent months reports have emerged detailing a possible move behind the scenes due to the severity of their ailments.
For Jordan, at just 29 years old, his in-ring career may be done after suffering a pretty terrifying neck injury. Reports detailed Jordan was preparing for a return in mid-July after stepping away in February, but apparently a setback has put any return to the ring in jeopardy.
With more than 20 years in pro wrestling, Hardy's insane bumps may have finally caught up with him, with news of his spine and pelvis fusing together, followed by a series of goodbye tweets.

Hardy's wife, Reby, also confirmed uncertainty in his future on SiriusXM's Busted Open radio, via Cageside Seats:
"Matt is good. Matt is right now going through a bit of a transitional period. He's not really sure what he's going to be doing. His contract is up in March, which I'm not sure many people are aware of. But there's sort of a decision to be made at this point as to whether or not he should continue his in-ring career or if he should pursue something different, which he would totally be up for and would be excited to do, I feel like. So he's kind of giving it a go right now backstage. He's at SummerSlam. He's not on the card but he's there and we're kind of going to see from here. It's really a transitional time right now," Reby said.
Following those details, Pwinsider noted Hardy and Jordan were backstage at production meetings at the Raw after SummerSlam, shadowing producers and learning the ropes for potential backstage roles.
If it is the end, it's brutal for both. Jordan was relatively young in the game and really seemed to be hitting his stride before his neck injury. Hardy's litany of injuries aren't much of a surprise after his run as an innovator in Tables, Ladders and Chairs matches, but it's sad nonetheless after returning to WWE with the best gimmick of his lengthy career.
Hopefully they can find happiness and success behind the scenes in whatever function they take on.