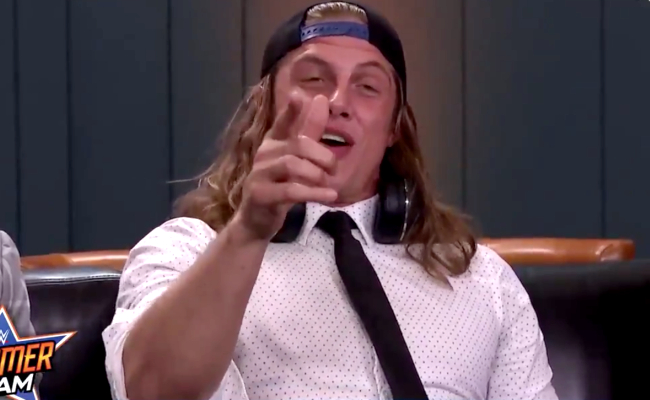 We just watched Goldberg demolish Dolph Ziggler not once, not twice, but three times. But as those watching WWE Watch Along learned, that wasn't the only time tonight that Bill Goldberg encountered a disrespectful current star. On Watch Along, a livestream that WWE runs of various SuperStars watching their show as it happens, NXT's Matt Riddle told the story of his own encounter backstage with Goldberg, who he's gotten some heat online for insulting.

Here's Matt Riddle's story, as only he could tell it, of meeting Goldberg outside his dressing room tonight.
I look up, it's Bill Goldberg. I'm like, "Bill Goldberg!"
He goes, "Oh, we got some talkin' to do!"
And I'm like, "We can talk anytime, bro!"
He's like, "Yeah?"
And I'm like, "Yeah," and I was like "Alright bro, anytime."
He's like, "I'm not your bro."
And I'm like, "Alright bro, like, take it easy. Whatever."
And then he's like "Yeah, we'll see. I'll see you later. And hey, it's a pleasure meetin' you."
And I go "The pleasure was all mine, bro."
And then he goes, "I'm not your bro," and then I walked away. I had to come here.
Who knows if there's a Riddle/Goldberg match in the cards, or even if there should be. Honestly, I think tonight's defeat of Ziggler would be a pretty good note for the old man to go out on. But one thing's for sure, which is that Matt Riddle is very entertaining, and ought to go far.