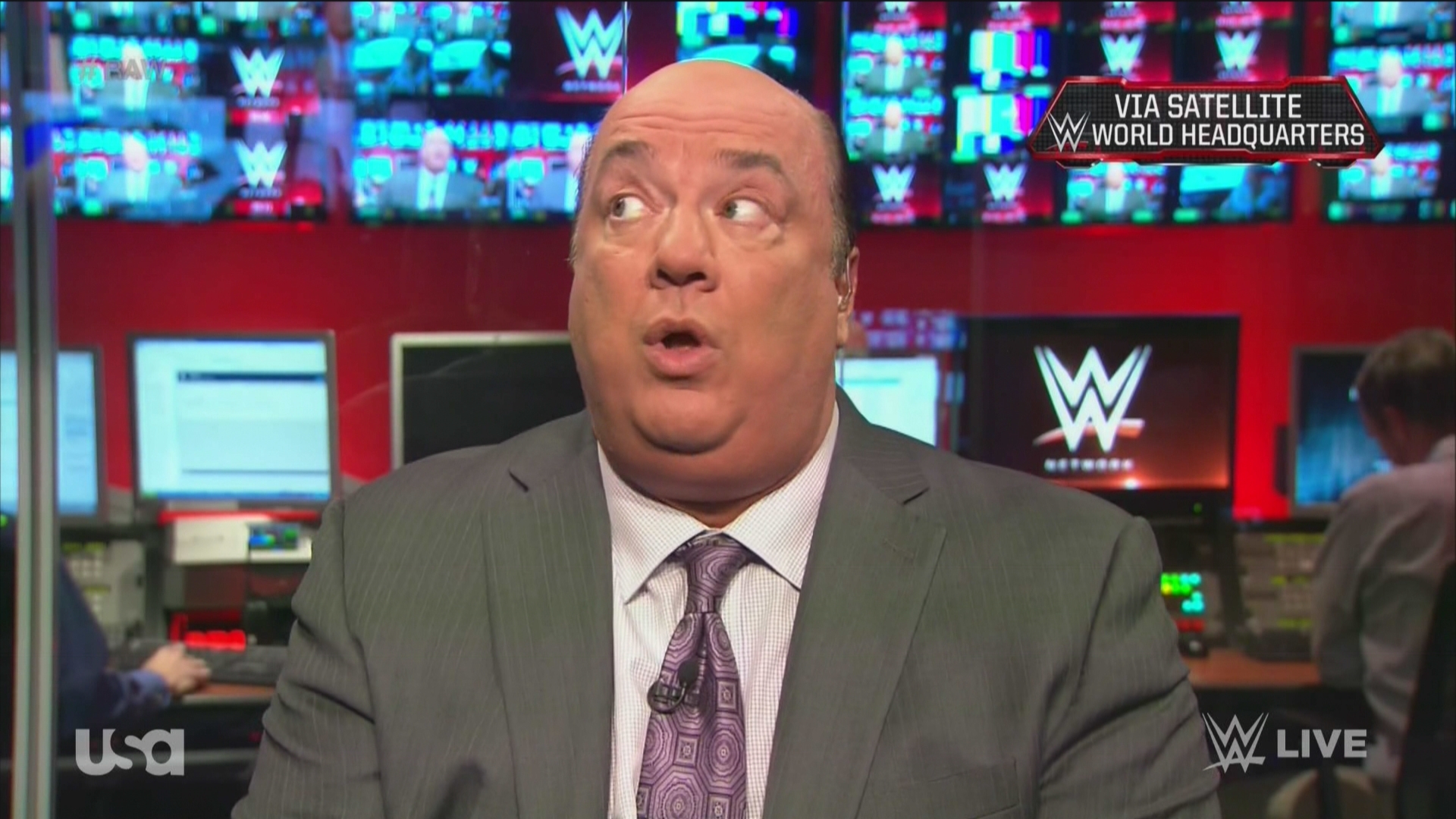 We're standing on the dang doorstep of WrestleMania, and as you're probably fully aware by now, WrestleMania week always turns each year's host city into a nonstop bacchanal of professional wrestling and wrestling-assorted wonders.
We've already blessed you with the gift of a complete guide to all of the pro wrestling all week (and weekend) long that isn't actually WrestleMania, but there are so many dang things to actually do and see and be part of all week, we decided to put together a second handy guide to the key wrestling-related events you'll be able to check out in New Orleans this week that aren't live wrestling shows.
Obviously, there is a crap-ton of stuff to be done, and more parties, readings, podcasts, and on and on than we can cram into this one post (and I'm sure not even we can track down ALL of the events available), so here are your best bets. You're welcome.

An Evening With Paul Heyman
Thursday, April 5 at 10 p.m., Joy Theater — 100 Canal Street
Would you like to spend a few hours in the company of Paul Heyman? Yes, you probably would. The undisputed master of the spoken word will present his one-man show as he spins yarns and tells tales from his unbelievable and storied career. To top it all off, he'll take questions from the audience, and reportedly, no question will be off-limits. If you're looking for some for-real, uncut, non-WWE-approved straight shooting (or if you just happen to be a Paul Heyman guy or gal), this is probably one you'll want to check out. And come on, it's not like you're doing anything on the Thursday before WrestleMania, anyway.
You can find ticket information at Paul Heyman Live.
WaleMania
Thursday, April 5 at 7 p.m., Republic NOLA — 828 S. Peters Street
The fourth annual club party, presented by rapper and WWE mega-fan Wale will hit on Thursday night. There will be live podcast tapings, live musical performances, indie wrestlers in attendance, and the guest of honor will be WWE Hall of Fame inductee Mark Henry. You can find ticket information right here.
The Slobberknocker Sessions, with Jim Ross
Friday, April 6 at 10 a.m., The LakeTown Room at the Hilton Garden Inn — 4535 Williams Blvd, Kenner, LA
Possibly one of the most exclusive events of the weekend, and yet reasonably priced! For $85 each, 100 fans will get to see Jim Ross tell stories and have a Q and A session afterwards, and everyone who attends gets a signed copy of Ross' new book, Slobberknocker. Find ticket information here.
Kevin Nash Presents: Shenanigans Bourbon Street Block Party
Friday, April 6 at 11 p.m., Bourbon Cowboy — 241 Bourbon Street
Another small WrestleMania weekend tradition is the Kevin Nash "Shenanigans" bar party, which always has a bunch of wrestlers in attendance, getting up close and personal with fans. Official guests include Nash himself, Terri Runnels, Billy Gunn, Al Snow, Buff Bagwell, Emma, Summer Rae, and a bunch more. There are a lot of different ticket levels, and you can find those here.
WrestleCon
April 6-8, Sheraton New Orleans — 500 Canal Street
Perhaps the ultimate fan expo and WrestleMania weekend fixture that isn't actually part of what WWE presents. It's three full days of independent wrestlers, wrestling legends, Hall of Famers, and everyone you can imagine who isn't under a current WWE contract, all available for autographs and photos. Plus there are the usual live podcast tapings, Q and A sessions, and more. It's a blast just to see all of these megastars under one very large roof, and fans will generally walk away with more than a few stories and amazing memories. You can find all of the info at WrestleCon's official site.
WWE AXXESS
April 5-8, Ernest N. Morial Convention Center
Ah yes, the grandaddy of all fan fests. Arguably the most bang for your buck on the weekend, depending upon how much you like to look at artifacts, stand in line, and watch NXT wrestling. There's always a bunch of stuff to see and do, and even if you don't care about autographs or photos, you can go sit and watch a bunch of cool wrestling. And we just found out that at AXXESS, there's going to be a BUNCH of cool wrestling. Last year, this is also where we got the announcement of the Mae Young Classic and the unveiling of the Ric Flair statue. So if you've got the time, it's worth the trouble. Plus, you get to spend way too much money at the WrestleMania Superstore!
Find all the info about AXXESS by clicking here, and we'll see you all in New Orleans.