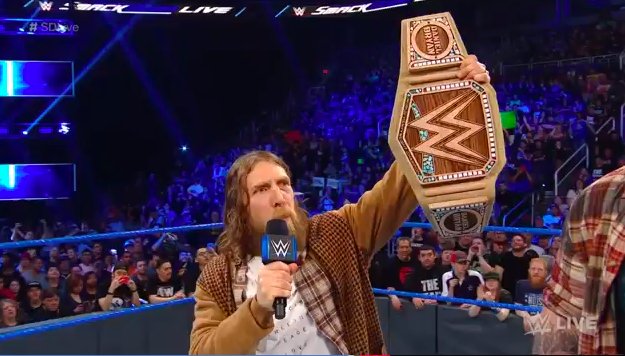 Way back in December, The New Daniel Bryan™ made a promise to AJ Styles about the legacy of the WWE Championship: he was going to make a gaudy leather cummerbund sustainable and vegan.
"After I beat you … I am going to take this leather strap that was made from a skinned cow that I like to name Daisy and I am going to replace it with something sustainable, something better and the new Daniel Bryan is going to create a new world that these people don't have any part of … You know what? Most of you probably don't deserve to have a part of it either."
On Tuesday night's edition of Smackdown Live, Bryan made good on that promise, and (after telling a lengthy story about Daisy, the cow who gave her life to make the WWE Championship) debuted a new WWE Championship title belt made from "100% sustainable hemp, carved from a naturally fallen oak." Oh, and he threw the old WWE Championship in the garbage can.
Here's a closer look at the new-look strap:
Bryan was interrupted by AJ Styles, Randy Orton, Jeff Hardy, Samoa Joe, and Mustafa Ali, but claimed that none of them would get a shot at his beautiful new title belt you could buy in a kiosk at the mall. Triple H popped up on the TitanTron to do what's best for business, and announced that Bryan would be defending against all of them at Elimination Chamber. So, you know, let's hope AJ Styles doesn't get his hands on that precious, giant friendship bracelet.
Sell me one for $400 immediately.