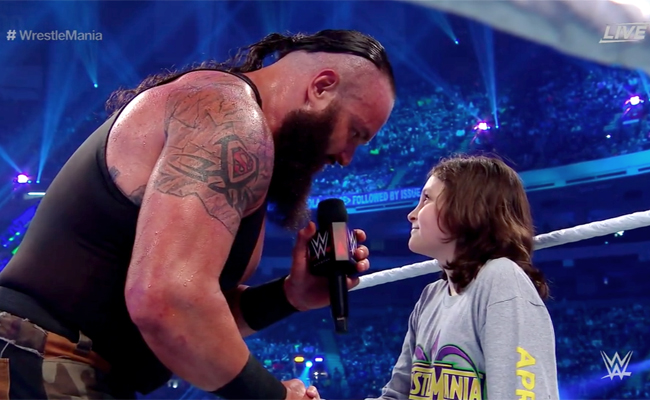 Last night at WrestleMania, Braun Strowman searched through the crowd and chose a young boy named Nicholas to be his tag team partner. Together (with Braun admittedly doing the hard work) Braun and Nicholas became Raw Tag Team Champions, which makes it seem likely that we'll see more of young Nicholas on Monday Night Raw tonight.
Those of us who've spent time watching wrestling (or just given thought to how liability works) knew that the choice had to be pre-planned. Although pretending that it's random adds to the fun, you can't really choose a child you've never met before and take them into the ring where large men are doing violence to each other, no matter how perfectly planned that violence might be.
Thanks to Bodyslam.net, we now know the true identity of Nicholas and how he ended up in the WrestleMania ring.

Nicholas Cone is the son of WWE referee John Cone. One place you might remember John Cone from is that he was apparently the ref who took a scary-looking fall when Braun and Big Show collapsed the ring on Raw last year.
Some fans have been speculating that this might be related, and giving his son this fun moment in the spotlight might be a thank you or a reward for putting up with the kind of nonsense that can come from being a WWE referee. On the other hand, WWE may just have been looking for a telegenic boy the right age, and Nicholas happened to fit.