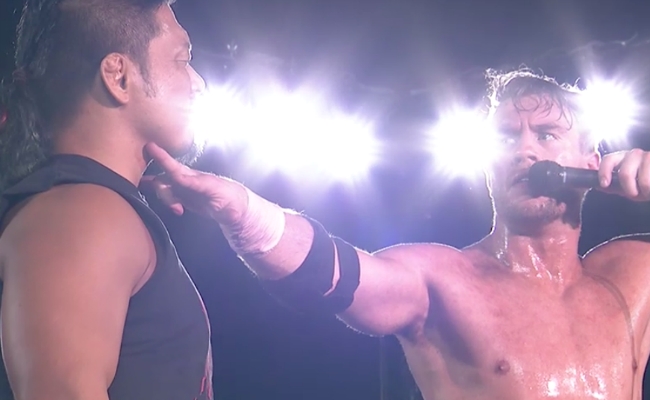 New Japan Pro Wrestling's final Best of the Super Juniors show on June 5 has extra international buzz since it was announced as the show on which AEW's Jon Moxley will debut for the company, challenging for Juice Robinson's IWGP United States Championship. The card also features another significant heavyweight division match: Hiroshi Tanahashi returning from injury to face his established enemy, Jay White. But though these matches include some big names, it's the final match of the twenty-sixth iteration of NJPW's junior heavyweight tournament, Will Ospreay vs, Shingo Takagi, that carries the most weight and is most likely to steal the show.
When Shingo Takagi debuted for NJPW last fall as a new member of Los Ingobernables de Japon, he immediately seemed too big for the junior heavyweight tag team scene. Not only was he literally bigger than almost all of the other juniors, but he had held a much more elevated position in Dragon Gate, which had been his home promotion since his wrestling career began in 2004.
However, it soon became clear that bigger things were in store for Takagi in New Japan. He was clearly the star of the triple threat match in which he and Bushi won the tag titles at Wrestle Kingdom 13, and his one-on-one rivalry with Roppongi 3K's Sho became a show-stealer. His combination of impressive in-ring skill, charming machismo, and booking by a large wrestling company that has made him look like a million bucks, has contributed to him being recently voted the twelfth most popular wrestler in Japan. And by the time the blocks for Best of the Super Juniors were announced, meaning Takagi would finally be in NJPW singles competition, it was very notable that he had not been pinned or submitted since arriving in the company about seven months earlier.
Once Best of the Super Juniors began, Takagi revealed he was determined to retain his undefeated streak through the tournament and did so in some of its best matches. Sho fell short of beating him on the opening night of A Block action. Takagi faced another formidable obstacle in IWGP Junior Heavyweight Champion and fan favorite Dragon Lee, but he came out on top of the Japanese vs. Mexican dragon battle. He put over his opponent and all the foreign wrestlers in the tournament as "awesome", but also stated he thought it should be a "Japanese fighter who is victorious at the end" of the tournament, to applause from the crowd.
Taiji Ishimori, who signed with NJPW months before Takagi and became a BOSJ finalist, then a singles champion earlier this year, started calling out Takagi, his former friend (in kayfabe; his actual longtime friend in real life) as early as the pre-tournament press conference. After a month of verbal jabs, by the time they clashed on the last night of A Block competition, the Bullet Club member was the only person who could have blocked Takagi from the final. In the end, the Dragon defeated the Bone Soldier in a banger of a match that Takagi teased might be only the beginning of their rivalry.
While a finals win for Takagi would be the culmination of a months-long climb to the top, it would be another entry on ever-growing list of NJPW accomplishments for his opponent, B Block winner Will Ospreay. Ospreay became the first British wrestler to win Best of the Super Juniors in 2016. This was only the beginning of his dominance in the junior heavyweight division, and he has now won the IWGP Junior Heavyweight Championship twice. Ospreay has also teased what seems like an inevitable move to the heavyweight division, putting on muscle, winning the NEVER Openweight Championship from Kota Ibushi in the opener of this year's Wrestle Kingdom, and defeating multiple much larger opponents in this year's New Japan Cup.
Though he had an acclaimed BOSJ performance this year, Ospreay didn't finish block competition with as flawless a win-loss record as Takagi. Most notably, he fell to his friend from RevPro turned evil, El Phantasmo, then to ELP's Bullet Club brother Robbie Eagles after interference from Phantasmo, meaning their rivalry is sure to continue on some continent or other. But Ospreay was still the favorite to win his match with Ryusuke Taguchi on the last night of B Block competition, though they went into it with the same amount of points, and he did.
Especially with Kushida now in WWE and Hiromu Takahashi still out injured, Will Ospreay is the most natural final obstacle (before the champion over whom he already holds a win) for Shingo Takagi in his rise to the top of New Japan's junior heavyweight division. Not only does Ospreay have similarly strong upward momentum in his career right now, but his recent wins over heavyweights makes the Dragon's usual size advantage basically a non-factor.
After Ospreay defeated Taguchi on June 3, Takagi entered the ring and addressed him, grinning, in English, saying, "Hey Ospreay, good match… You were amazing. Technique, speed, power – you are strong. But! But, but I am more strong than you!"
Takagi cut the rest of his promo in Japanese, directed at both Ospreay and the crowd, and made to leave the ring, but Ospreay halted him by getting on the mic himself. He told Takagi he isn't scared of him, but only of his own mind. He promo dived into this topic that hadn't been a part of Ospreay's NJPW persona:
This has been the worst year of my personal life. Every time I get in this ring, I'm so happy. I'm happy I get to perform in front of all of you. But the moment I go backstage and I'm alone my mind takes over and my insecurities get the best of me. But I went around the world and talked to many, many fans who are going through the same stuff that I'm going through, and I fight for all of them. You may be stronger than me, Shingo. You've probably got some good guns on you. But the one thing that I have over you is… I have a big heart and no brain.
Ospreay concluded his speech by saying that he is "the only man who can bridge the gap between junior heavyweight and heavyweight" and "I'm not just going to beat you, Shingo. I am going to slay the dragon." On Twitter, he later dubbed himself "St. George."
This first-time-ever matchup will take place on June 5, 2019, at the most highly attended Best of the Super Juniors final in history at Ryogoku Sumo Hall, with the winner going on to face Dragon Lee for the IWGP Junior Heavyweight Championship at Dominion. With both men on hot streaks and especially after that heated promo battle, Shingo Takagi vs. Will Ospreay, dragon vs. aspiring dragon slayer, is sure to be a memorable showdown with meaningful fallout for NJPW's junior heavyweight division.