I sat down to watch the first night of New Japan Pro Wrestling's Road to Wrestling Dontaku with certain expectations. I expected some evolution of the feud between Los Ingobernables de Japon and Suzukigun and the feud between Chaos and Taguchi Japan. I did not expect any content related to the ongoing Bullet Club civil war – we last saw them in NJPW at Sakura Genesis, then we had Kenny vs. Cody at ROH Supercard, and then we saw some of the fallout on Being The Elite. Bullet Club, even the NJPW full timers, isn't booked for anything until Wrestling Dontaku.
So imagine my surprise when this appeared on my screen:
Of all the Bullet Club-related things I wasn't ready to see, I wasn't ready to see that THE MOST. If Bone Soldier is Asuka, I am EVERYONE BUT CHARLOTTE. My reaction was essentially this:
I know BC is 4 Life, but does that really apply to a skeleton … man … thing?

For those of you not enlightened about Bone Soldier, he was by far the worst ever member of Bullet Club. He wrestled for NJPW, mostly as Hideo Saito (unmasked), from 2006 to 2010 as basically a midcard fall guy. He returned to NJPW in 2011, joined Chaos, and was soon exiled from Chaos for being terrible and making them lose matches. This caused him to created a masked alter ego, superhero Captain New Japan. He allied with Tanahashi and got his butt kicked by Bullet Club a bunch.
When Yoshitatsu formed an anti-Bullet Club stable, Hunter Club, in 2016, Captain New Japan joined up. He continued to suck, got voted out of the faction via Twitter poll, and promptly joined Bullet Club. You know what they say: if you can't beat 'em, join 'em. (But Captain New Japan hardly ever beat anyone, so he really could have joined anyone.)
Captain New Japan had to change his image and persona, of course, now that he was anti-establishment heel faction member. He got a new mask that made Evil's scythe look as pricey as a Triple H WrestleMania entrance. He called himself "Bone Soldier." He continued to suck. The real problem was that he didn't just suck in kayfabe; the dude's ring work was not good and his presence was always more frustrating than funny. This was Bullet Club at arguably its most bloated.
Bullet Club, like Chaos and Hunter Club before them, eventually kicked Bone Soldier out for constantly making them lose tag matches. Kenny Omega dubbed him an "intergalactic disaster." This time, he didn't run to the next faction that would take him, because the man behind the mask, Mitsuhide Hirasawa, was released from New Japan Pro Wrestling.

But now the mask, if not the man previously behind it, is back! And guess who's to blame:
As the wrestling internet exploded with this shocking news, the semi-deposed Bullet Club leader and Golden Lover Kenny Omega felt the need to respond:
So did Tama Tonga, in a cryptic tweet that would definitely make journalists retweet with "He's running" if they considered Bullet Club leader to be a political office of real world significance like I do:
Bad Luck Fale, the man who lost seven straight World Tag League matches with the original Bone Soldier as his partner, also weighed in:
Maybe the identity of the masked man calling himself Bone Soldier will become clearer in additional vignettes along the Road to Wrestling Dontaku. Maybe not. Bone Soldier is NOT ON THE CARD for Wrestling Dontaku, so it's hard to say what the heck is going on with this guy. But that won't stop me from thinking about it every waking moment until he appears. So let's take some time to consider our options for the identity of the new Bone Soldier!
Flip Gordon
There are so many reasons Flip Gordon could become Bone Soldier: he's trying to make Cody book him for All In; he's trying to get Cody out of the picture so he can get with Brandi Rhodes; Brandi and/or Cody has persuaded him to don the mask to get at Kenny in exchange for a kiss and/or being booked at All In; he's still sore about all those harmful ribs from when he first joined ROH. We'll know it's Flip if the new Bone Soldier shows up and does like twelve flips in a row before the bell rings.
Kitamura
https://www.instagram.com/p/BfOVLBtH0Mf/?taken-by=katsuya.kitamura
Kitamura has been out injured, so this could be his momentous return and the start of a new phase in his career. Kitamura has always seemed like a pretty good dude, but Cody is a master manipulator and could have persuaded him to turn heel. Watch for an extremely jacked, orange man wearing a mouth guard with fangs (I'm assuming he'd still wear it under his mask) and failing to pin people after spears and jackhammers.
Hikuleo
Young Gun Hikuleo (also out injured) is technically still in training at the dojo and has yet to go on excursion, but his brothers Tama Tonga and Tanga Loa have already welcomed him into the Club. We've seen him improve a lot since he came to New Japan, but he still has a ways to go. Maybe Cody and Tama agree on literally one thing, and that's that a new gimmick would help Hikuleo? If Bone Soldier shows up and it's a 6'8″ Tongan guy who looks concerned about accidentally hurting people, we'll have our answer.

Burnard the Business Bear
Cody's new BC mascot, Burnard the Business Bear, who I already love a million times more than Bury the Drug-Free Bear, has only appeared in ROH so far. If Burnard and/or Cody was worried about him getting over in Japan they might have thought to associate him with already popular logo that keeps Hot Topic in business. We'll know Burnard is Bone Solider if Bone Soldier shows up and it's a bear in a shirt and tie wearing a skull mask.
Hornswoggle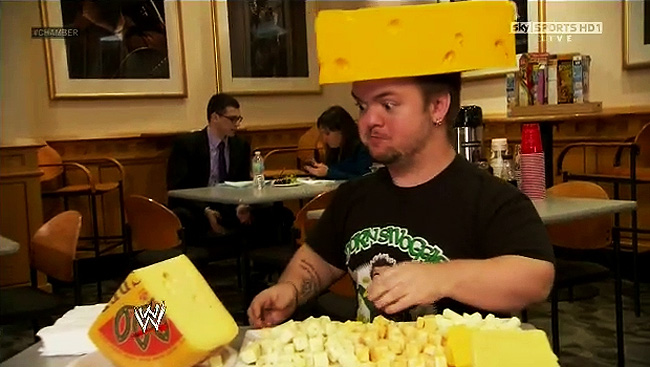 Give me one good reason it SHOULDN'T be Hornswoggle. That's what I thought. There isn't one. I bet he's available.
Dave Meltzer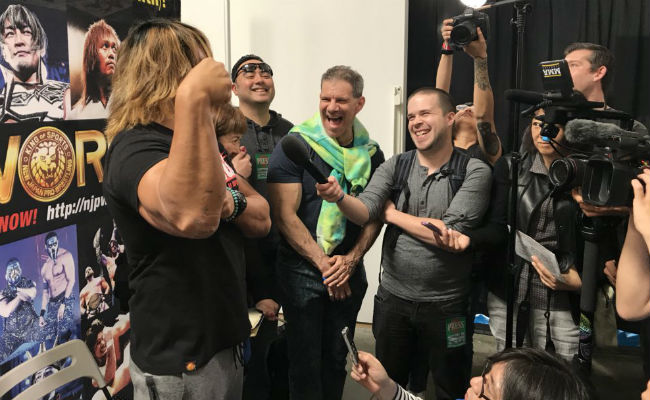 In an effort to learn more about what makes Kenny Omega the greatest wrestler in the world, intrepid pro graps journalist Dave Meltzer of Wrestling Observer Newsletter infiltrated the Bullet Club under a new identity. That guy's always making the rest of us looking lazy. I wouldn't put this past him.

John Minadakis of Jimmy's Seafood
John Minadakis of Baltimore's Jimmy's Seafood, aka the American Ribera Steakhouse, is known to pal around with (or suck up to, depending on who you ask) the many pro wrestlers who visit his establishment. The American Nightmare is one of the few who has spoken ill of him on the internet.
Driven to near-madness by this rejection, Minadakis learned Japanese, learned to wrestle slightly better than Hirasawa, donned a mask, and traveled to the New Japan dojo. Everyone was so impressed with Hirasawa's seeming improvement that they re-signed him immediately. We'll know it's this guy if Bone Soldier appears at ringside holding crab cakes, waiting to get his revenge on Cody.
CM Punk
Hahahaha.
Neville
Hahahaha.
Rusev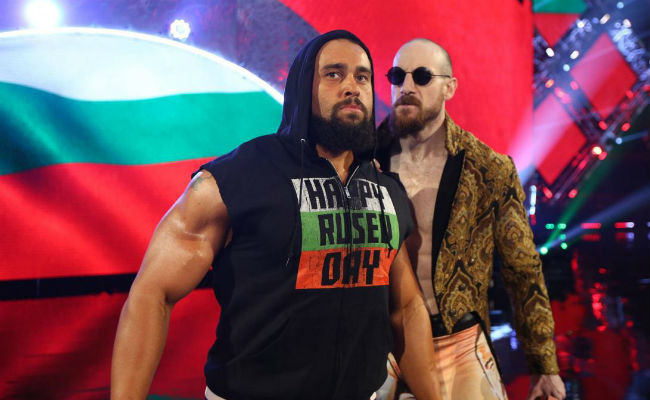 Rusev would be a way better fit for Taguchi Japan, you guys. Come on.

Karl Anderson and Luke Gallows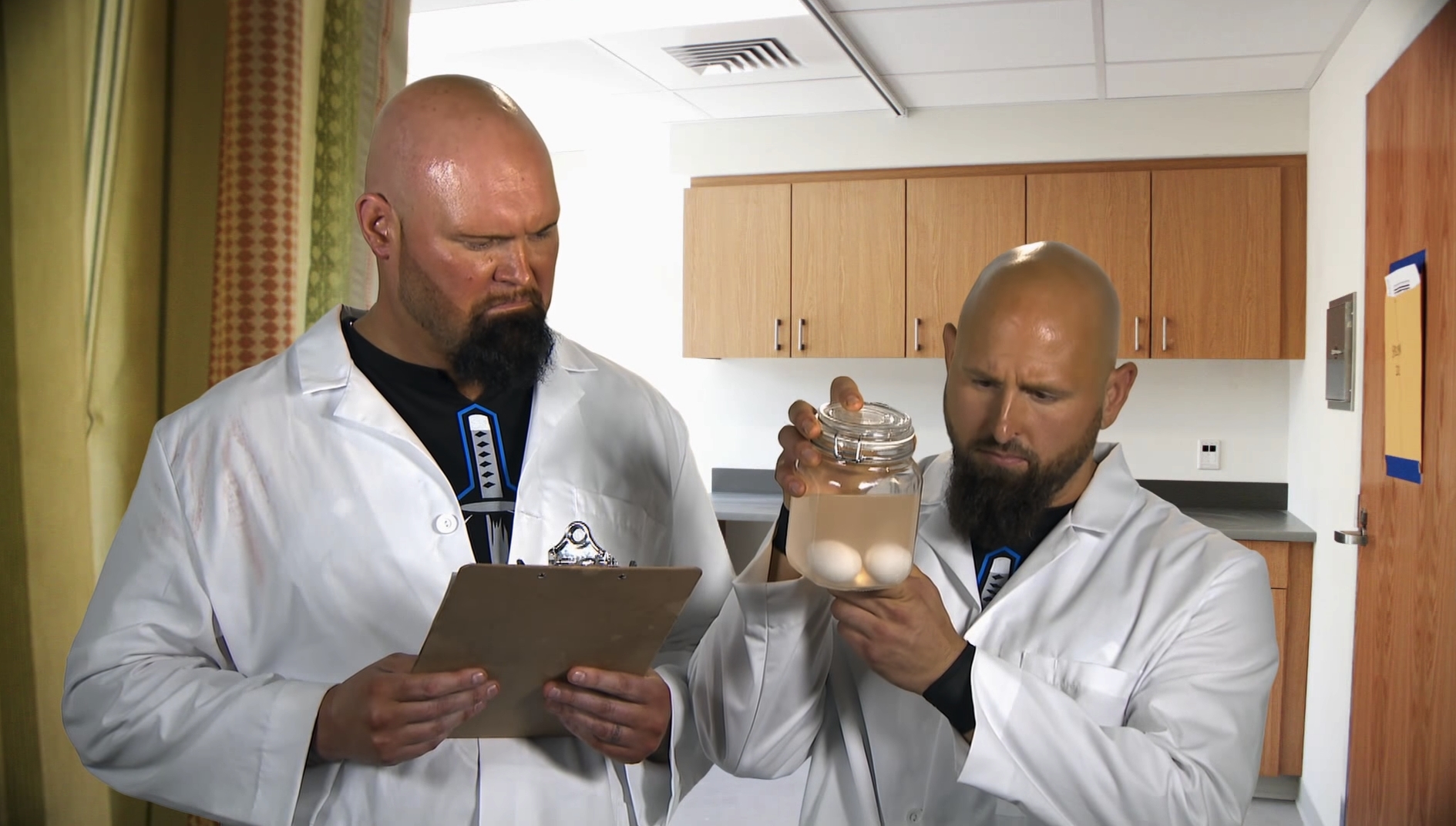 BCOGs Anderson and Gallows are sick of being a neutered midcard tag team in WWE and yearn for their way more relevant days in NJPW. Rather than wait for their contracts to be up or face legal issues by defecting early, Gallows and Anderson sneak into Japan and take turns wrestling under the Bone Soldier mask, thinking it will make people less likely to suspect its them.
Bone Soldier
When NJPW says Bone Soldier is will return, they mean Bone Solidier will return. The original Saito/Captain New Japan/Bone Soldier will return at Dontaku. He's been training his mind and body relentlessly since his release. Was this so he could make up for the many, many tag matches he cost the faction that originally welcomed him with open arms? Heck no. It was for revenge. Guerrilla tactics got nothing on skeleton army strategy. Watch that 10-man tag on May 4th end with OG Biz Siz standing over a ring full of prone bodies, now the supreme ruler and sole member of Bullet Club.