WrestleMania 34 featured several former NJPW stars in high profile matches: Finn Balor competed for the Intercontinental Championship in the opening triple threat match and AJ Styles defeated Shinsuke Nakamura in a rematch from Wrestle Kingdom 10 (with the opposite victor.) Plus, Gallows and Anderson were in the Andre which is … something!
Many current New Japan wrestlers were in town as well performing at other WrestleMania weekend shows, and some of them stopped by to check out what was happening on the Grandest Stage Of Them All.
Nakamura looked happy to be supported by Tiger Hattori, who he names as a mentor and calls "the real Mr. Miyagi." Hattori is currently a referee and booker for NJPW.
Hiroshi Tanahashi was in town to compete for the ROH World Tag Team Championship with Jay Lethal at Supercard of Honor, and took the time to catch up with his former tag team parter turned greatest rival.
On Sunday, the Ace posted on Instagram that he was in the Superdome for WrestleMania. Reddit user AbortionMonster happened to have a seat near Tanahashi, and told r/Squared Circle how he reacted:
I was fortunate enough to sit near TANAHASHI for WM. He was kinda incognito, dude wore a hat to hide his beautiful locks, and wore basically gym clothes. NO ONE recognized him but me, and the only reason I knew he was… around was due to an Instagram pic he posted that I was in so he had to be around me.
Anyways I asked the ACE how he felt about WM and he said he loved it. But he didn't love the main event. Dude was laughing his ass off at the nakamura heel turn.
Funniest part to me was when Braun was looking for a tag team partner, his crew kept pointing at him and he was raising his hands.
I like to think Tanahashi laughed at Nakamura's amazing heel turn because he knows personally what the WWE roster is in for.
The second-newest, but still knife-perviest, member of the heel (now babyface) (mostly) stable that Nakamura and Toru Yano founded, Chaos, also enjoyed that moment:
There was a partial Chaos reunion over the weekend too, which we know about thanks to Tomohiro Ishii's fantastic blog: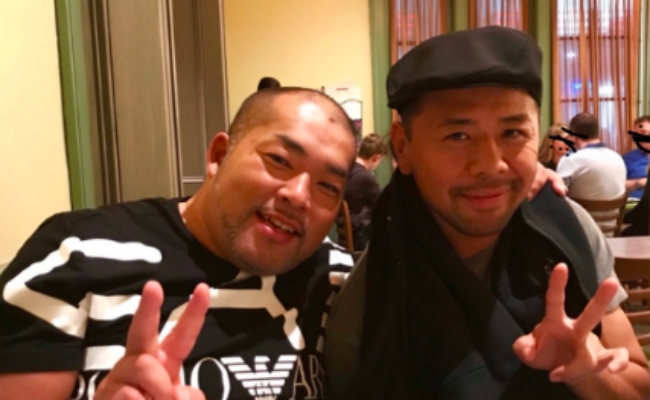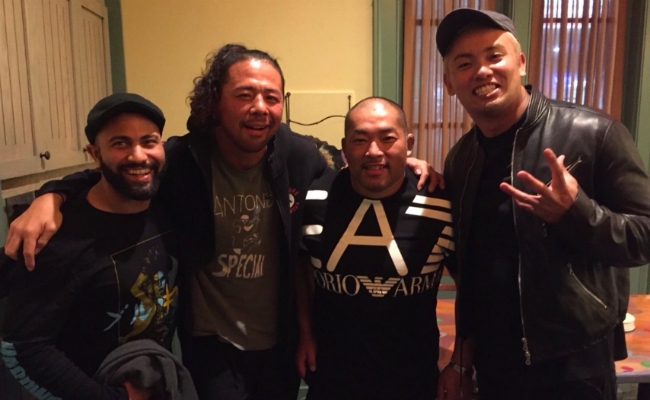 Another Reddit user, FallDemon16, says they sat next to Okada, and "He showed respect and golf clapped for everyone but was really into seeing Balor and Nakamura, taking pictures/video of their entrance, etc." FallDemon16 says no one else around them recognized the Rainmaker… maybe because he threw them off by wearing another faction's gear???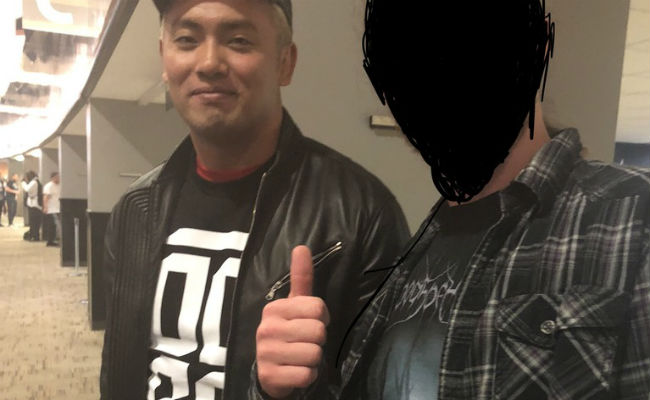 Just a rib/appreciation of a good tee shirt design, or foreshadowing of a future change of allegiance? (Before you scoff at that last option, keep in mind that Okada is All In!)
The IWGP Intercontinental Champion, leader of Suzukigun, former opponent of Asuka, and most terrifying man on the planet Minoru Suzuki was also in attendance. I hope to any and all higher powers that he didn't get near anyone who's currently training at the Performance Center.

One big NJPW star who wasn't at the show, and in fact claimed to not even be watching it, was Kenny Omega:
It's such a bummer that Omega prioritized video games over WrestleMania, because that means he missed Sonya Deville's queer pride gear and Finn Balor's entrance! Given that he recently said "In WWE, a gay person is usually portrayed like some sort of comedy act to be mocked and laughed at," I'm sure that would have really warmed his heart!
But fortunately it looks like he caught up with the show at some point, because he had this to say on what went down after Styles vs. Nakamura:
Omega took over Bullet Club leadership from AJ and kicked him out both the faction and Japan right before the Phenomenal One came to WWE. Styles has been stuck playing street ball ever since.