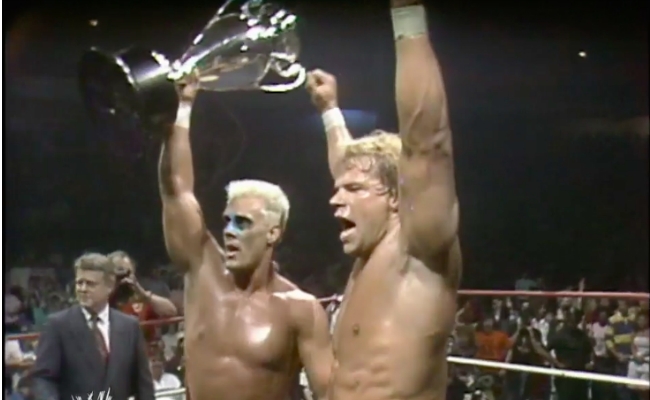 With the announcement of All Elite Wrestling, the partnership of Ring of Honor and NJPW selling out Madison Square Garden, Impact moving to an even more obscure cable channel, and more, it looks like a lot could change on the American wrestling scene in 2019. Another interesting development is that ROH and the NWA, as announced by the Sinclair Broadcasting-owned wrestling company today, will partner to bring back the Crockett Cup tag team tournament.

NWA President Billy Corgan explained this decision by stating, "Jim Crockett Promotions built a foundation in the Mid-Atlantic region with their tag team wrestling in the 70s and 80s. The Crockett Cup in 1986 brought together the best tag teams in the world under one roof. It's our honor partnering with Ring of Honor to bring this tradition back to North Carolina while supporting the Crockett Foundation with their philanthropy for veterans."
ROH General Manager Greg Gilleland also put over the history of the tournament and hinted at more dramatic moves by ROH in the future, saying "Our utmost important stakeholders, investors, or partners in this business are the wrestling fans. Partnering with The NWA to bring back this prestigious tournament and truly create a special event is a responsibility that we have to all fans, and is one of many other special events to come."
The NWA originally announced the return of the tournament at their seventieth anniversary show, where Nick Aldis surprisingly (at the time, but not so much in the post-AEW world) defeated Cody Rhodes to regain the NWA World Heavyweight Championship he lost at All In. The 2019 iteration of the Crockett Cup, won in the past by the Road Warriors, the Super Powers, and Lex Luger and Sting, will begin on April 27, 2019, in Concord, North Carolina.