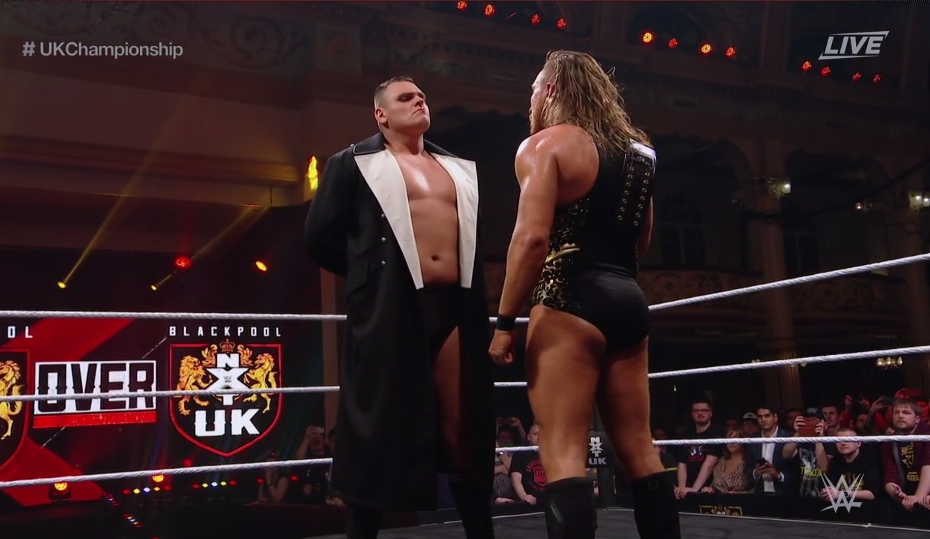 Previously on the Best and Worst of NXT UK: We got woefully behind trying to recap these every week, thanks to WWE's interesting combination of "taping 400 episodes before the show started airing," and "airing them all in a pile." That's hyperbole, but the weekly show hasn't been much to write home about, and we're considering TakeOver The First as a new jumping-on point.
Click here to watch the show on WWE Network. If you'd like to read previous installments of the Best and Worst of NXT UK, click right here. Follow With Spandex on Twitter and Facebook. You can also follow me on Twitter.
And now, the Best and Worst of NXT UK TakeOver: Blackpool, originally aired on January 12, 2019.
Best: The Perfect Way To Start The First UK TakeOver
The best booking decision of this entire event (for me, at least) was the decision to open the card with Mustache Mountain; more specifically, with almost 25 minutes of championship-level tag team wrestling in front of a molten hot crowd and so full of 2-counts you could've pulled it straight from the VOD of your favorite British indie promotion. That's what this felt like to me: the closest thing WWE's put on television to the British Wrestling people have been getting so excited about for the past several years.
It's also indicative of an interesting trend NXT UK is going for; championship tournaments where one one person is obviously supposed to win, but the finals go an unexpected way, leaving us with a "first-ever" heel champion and the assumed top-spot babyface has to challenge and overcome them. It felt like Toni Storm was an obvious choice to win the NXT UK Women's Championship tournament, but got hurt during the finals and Rhea Ripley ended up champ. At the first TakeOver, Storm got a marquee rematch and won, allowing the promotion to double up on "making history." WWE will split a match into 10 if it can say it "made history" in some way nine times. And sure enough, the NXT Tag Team Championship tournament you assumed Mustache Mountain would win — because they are the brand's signature tag team, former NXT Domestic tag champs, and the only people besides Pete Dunne who got a proper introduction within the WWE Universe — ends with them losing, cleanly, to the heels.