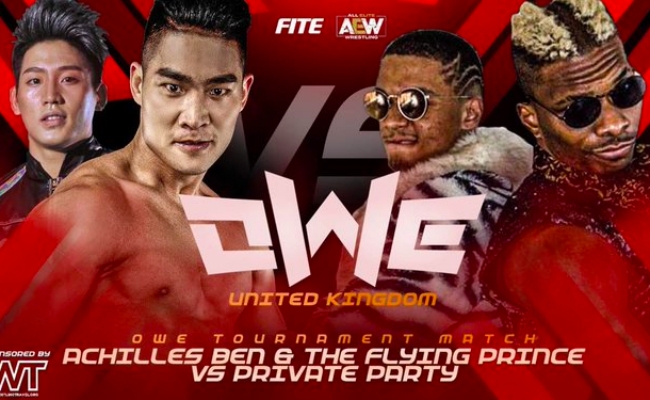 Oriental Wrestling Entertainment has expanded rapidly since it was founded two years ago, but it looks like it's experiencing growing pains with the strange cancellation of events in the UK that featured wrestlers from OWE, AEW, and the British scene.
OWE began in 2017 as the only professional wrestling promotion in China, training an entirely new crop of wrestlers. It initially gained more attention and some valuable, more experienced talent when it entered a relationship with Japanese wrestling promotion Dragon Gate. Since former Dragon Gate stars Cima, T-Hawk, El Lindaman, and Takehiro Yamamura committed to OWE and moved to China, they've been essentially been the international faces of the promotion, performing not only in China but around the globe representing OWE and their #Stronghearts faction.
The promotion gained more exposure when it announced its partnership with the even newer American company, All Elite Wrestling, in February 2019, promising to bring their exciting new "kung fu pro wrestling" to AEW fans. While Stronghearts (Cima, T-Hawk, and El Lindaman) performed at Double or Nothing and Cima wrestled on AEW's next two shows, the OWE-AEW partnership has yet to bring Chinese pro wrestling to the U.S. According to OWE, visa issues have been to blame.

But this setback hasn't stopped OWE's international expansion. In addition to their shows in China and Japan (which you can watch here and here for free), they held their first events in Toronto on SummerSlam weekend that featured AEW wrestlers, as well as Japanese and Chinese OWE talent. Their next big move was OWE UK.
Unlike the company's events in Canada and Japan, OWE UK was promoted as an international branch of OWE, similar to the now-inactive Dragon Gate USA and Dragon Gate UK, the international branches of Cima's old home promotion. In June, they stated on social media that, "OWE is pleased to announce this September we will be launching OWE United Kingdom and will be crowning OWE UK Champions and Tag Team Champions. This is an open challenge to the world and to the United Kingdom to bring your very best, your elite, to compete against OWE China in the UK as East meets West."
Before any matches or talent for the had been announced, tickets were already on sale for five shows in London and Liverpool. OWE UK soon announced a 16-team tag team tournament as a major feature of their first series of shows, including European talent, AEW wrestlers (Private Party and the team of Luchasaurus and Marko Stunt), Japanese OWE wrestlers (two Stronghearts teams of Cima/Lindman and T-Hawk/Shigehiro Irie) and the UK's first glimpse of OWE's Chinese wrestlers with T-Cool, Monkey King, Achilles Ben, and The Flying Prince.
With shows featuring not only this tag tournament but a lot of singles matches, the crowing of an OWE UK Women's Champion, and the high-flying Shaolin Monk Zhao Yilong, who had already caught the eye of some wrestling fans through clips and gifs shared on social media, it looked like these shows could be the start of something exciting for the UK wrestling scene that had been affected dramatically by NXT UK.
The future of OWE UK doesn't look as bright, however, after all five of their events were suddenly canceled, then postponed earlier today. The day of social media turmoil for OWE (UK and domestic, who have separate Twitter, Facebook, and Instagram profiles) began with an announcement that the September shows were canceled in posts that were later deleted. Several hours later, the entire OWE UK Twitter account was deleted.
OWE UK stated that, "Even though key personnel from our UK tour have resigned, we are looking to appoint a new tour team and make an announcement shortly." In a Facebook post that has since been deleted (but here's a screencap) OWE officially postponed the UK tour, saying, "Following the resignations of our head booker and marketing directors; OWE United Kingdom has taken the unfortunate decision to delay the UK tour. More information will be announced shortly."

On August 31, those resignations had been made public in a since-deleted post to the OWE UK Facebook group. Sean McMahon, the CEO of Nothing Else On TV, which hosts some OWE shows, and former UK promoter of Extreme Dwarfanators Wrestling, announced the resignation of his position as UK Operations Director of OWE with the statement:
"I have submitted my formal immediate resignation as a director and head of marketing of Martialism Sport & Culture Communication UK Ltd, trading as OWE United Kingdom.

"I have decided to resign as a director, due to, what I feel, is the mis-conduct of the director and OWE China. I find this to be totally unacceptable, damaging to the industry and reputation of all who have committed themselves to ensure the tour would have been a success.

"The company will now be required to either continue with the tour themselves without Jay Apter or myself or make other arrangements."
OWE seemed to have been completely blindsided by this news. OWE UK tweeted and posted on Facebook that, "The OWE UK tour has been delayed, not cancelled due to unforeseen circumstances. We will be making further announcements as soon as we finalise things" and Cima replied, "WHAT'S HAPPENED."
About twenty-five minutes after Cima's response, the main OWE account weighed in on the situation, tweeting, "OWE were shocked today to learn that the planned UK tour had been delayed. While we partnered with a UK promoter to use OWE in the UK, we've been unable to reach them for several days. We also have no access to any OWE UK social media Full statement will be released shortly." They encouraged, "anyone who used PayPal to make purchases to try and obtain a refund via that platform while we investigate our options."

McMahon gave a statement to Fightful that, "I have been offered a position with another company. Also, I did not share common values with the owners of OWE," and described the "misconduct" he referred to as "broken promises." When UPROXX reached out to McMahon through Facebook Messenger about the allegation of misconduct in his resignation post, he replied by sharing an official statement that OWE UK had recently made through that since-deleted Twitter account:
"I believe OWE have released a statement saying:"

"We took the decision to delay the tour due to unforeseen circumstances and anyone wishing to have a refund, this will be honored, of course. There is no wrongdoing, nor has anyone 'messed things up'. It was purely down to a major scheduling conflict that was unexpected and unavoidable. Shows, unfortunately, get canceled or delayed all the time from all types of promotions, of all sizes. The same goes for members of our team here in Shanghai or in the United Kingdom, we don't always see eye to eye with everyone and everyone has their own views.

"If anyone who has purchased tickets requires a refund please email us at info@orientalwrestlingentertainment.com and we will endeavor to process this over this next week."
McMahon has yet to respond to further questions about the "misconduct" within OWE. UPROXX had previously been in contact with McMahon about interviewing OWE talent through the NEO TV Twitter account, which has since been deleted.
At this point, rumors are flying about why the OWE UK tour was canceled and at least one other British company is using the drama to promote their own events. What looked like at least an entertaining series of shows if not the debut of a significant new player in the UK wrestling scene has been postponed indefinitely. OWE still has events scheduled in China and Japan, an upcoming tour in Taiwan and Singapore (featuring Kenny Omega!), and a presence in several independent promotions, including Wrestle-1 and Australasian Wrestling Federation, but at this point, this is certainly a black mark on their efforts at international expansion.