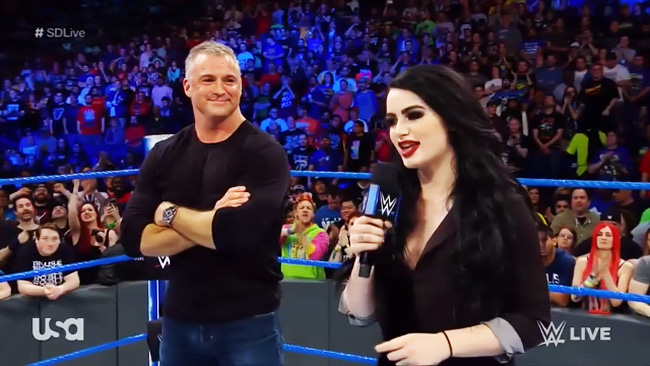 The Smackdown after WrestleMania started off every bit as eventful (well, maybe not, but bear with us here) as the Raw after WrestleMania. Tuesday night's Smackdown Live opened with commissioner Shane McMahon, who revealed that he had accepted Daniel Bryan's letter of resignation as Smackdown's general manager.
McMahon reacted to the initial fan boos by pointing out this wasn't a bad thing, as Bryan will be returning to a role as a full-time in-ring performer. McMahon then said he'd already lined up a replacement general manager, and then introduced her. It was none other than Paige, who had officially announced her in-ring retirement on Monday night's Raw.
The WWE Universe warmly greeted Paige, once again reminding her that the Smoothie King Center — where she made her WWE main roster debut by winning the Divas Championship from AJ Lee, and where she retired — is, in fact, her house. Paige said she knows the Superstar Shake-Up is next week, but she wanted to make sure that her first night as general manager is a memorable one for the fans.
To the great pleasure of the fans in attendance, Paige then booked Daniel Bryan's first television match in three years, and made it a dream match, to boot: a non-title match against Bryan's old world-traveling buddy and peer, WWE Champion AJ Styles. That's a great way to make a first impression, Paige.