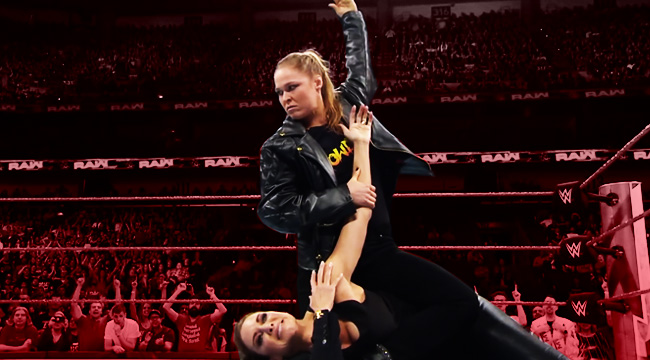 Previously on the Best and Worst of WWE Raw: Hey we gonna celebrate, yeah yeah yeah, because WrestleMania 34 happened and we've got new Raw Women's, Raw Tag Team, Cruiserweight and Intercontinental Champions. No uh, no new Universal Champion though. Huh.
Remember that With Spandex is on Twitter, so follow it. Follow us on Twitter and like us on Facebook. You can also follow me on Twitter. BUY THE SHIRT.
One more thing: Hit those share buttons! Spread the word about the column on Facebook, Twitter and whatever else you use. Be sure to leave us a comment in our comment section below as well. I know we always ask this, and that this part is copy and pasted in every week, but we appreciate it. We're on the Road To Backlash™!
Here's the Best and Worst of WWE Raw for April 9, 2018.
Best: Stephanie McMahon Goes Full Vince
Awesome performance at WrestleMania aside, Ronda Rousey does one priceless thing for WWE: she gives Stephanie McMahon a female foil that's too big of a star to be pushed around and isn't afraid to break her arm if she gives her too much shit.
Stephanie's been one of the best performers on the show for a long time, but outside of a yearly WrestleMania bump she never seemed to get comeuppance. She couldn't, really. Now she's forced to open the Raw after WrestleMania in an arm brace and go full Vince McMahon, taking credit for losing to Ronda so well it made her a bigger star and thanking people for appreciating her accolades when they chant "you deserve it" about her broken-ass arm. It's so good. For her part, Rousey just stands there looking at her like she's an asshole for a few minutes, hugs her, then goes all-out Terminator on her.
It's simple, effective, lets us celebrate Rousey's WrestleMania performance (and Stephanie's!) without insisting upon it over and over, and in the span of about 24 hours Rowdy Ronda's a WWE star worthy of all this time and love on WWE TV. I hope Ronda breaks her arm every week, like one Pentagon arm snap for every time Stephanie got over on someone and couldn't get it back.