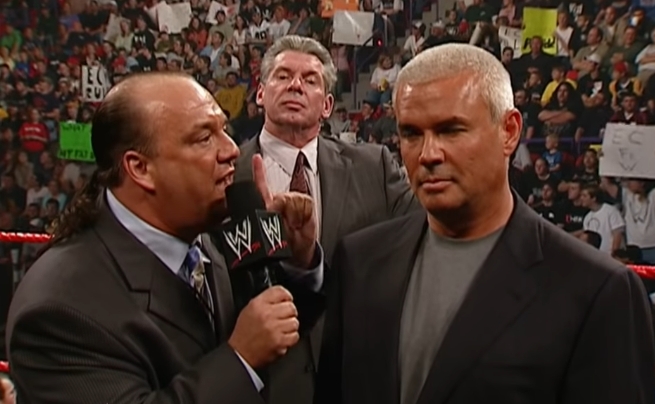 Well, here's a story I bet you didn't expect to read on a Thursday morning.
Per a real, official announcement from Sports Illustrated — just so you know this isn't some kind of crazy fantasy booking from our 1998 galaxy brains — WWE's latest plan to right the sinking ship of weekly TV quality for Raw and Smackdown is to name former WCW head honcho Eric Bischoff and former ECW head honcho Paul Heyman as "executive directors" in charge of WWE TV.
From the story:
Heyman is set to become Executive Director of Monday Night Raw, while Bischoff will fill the same role for SmackDown Live. Both will report directly to WWE Chairman and CEO Vince McMahon.

WWE confirmed the news with Sports Illustrated, with an official announcement expected later today. The two positions are full-time executive roles, with no plans at the current time for this to be introduced as part of a TV storyline.
The move is an attempt to breathe some fresh air into the stale and homogenized TV product, bring in some good will from fans who watched the shows years ago and instantly recognize the creative talent, and create distinct identities between Raw content and Smackdown content going forward.
I can't believe this won't immediately become part of a TV story and involve both Bischoff and Heyman as (probably evil) general manager characters, but as far as news that they're working to turn things around goes, it's hard to beat. For now, it's very easy to get excited about what happens next.