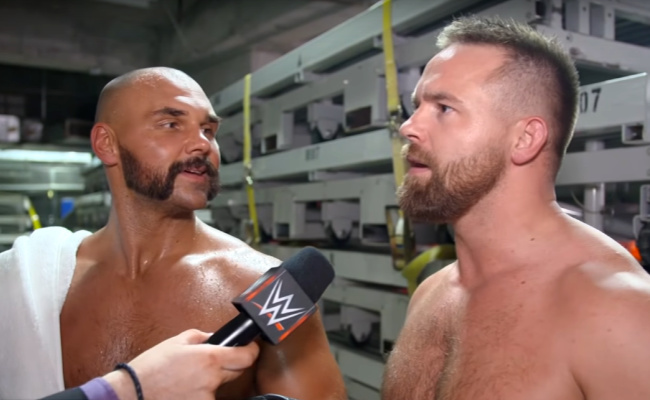 If you've been watching Raw lately, well you're probably frustrated by a lot of things, but one of those things is almost certainly the treatment of Scott Dawson and Dash Wilder, the tag team known as the Revival. The former NXT Tag Team Champions have lost three weeks in a row to Lucha House Party, who wrestle under "Lucha House Rules" which for no explicable reason allows the entire trio to wrestle every time, making every match a handicap match. This situation is even weirder because the Revival are supposed to be the heels and Lucha House Party are usually faces, removing this unfair situation from the sort of wrestling context where it might make sense.
Meanwhile, on twitter, the possibility of a more exciting feud is being teased. Last night the Young Bucks tweeted about a future match with the Revival:
And the Revival responded promptly:
The big question in wrestling right now is what's going on with the possible new promotion that the Young Bucks and friends might be starting in 2019. One rumor that's gone around is that two current WWE superstars are definitely jumping ship to join that promotion, and even if that's not Dawson and Wilder, these tweets seem custom-made to make us think it is. It's worth noting that Tony Khan, Jacksonville Jaguars co-owner and possible money man behind the new promotion, follows Dash Wilder on Twitter.
On the other hand, it's possible "All Elite Wrestling" won't pan out, and there have also been persistent rumors that the Bucks are coming to WWE, so the match could happen there (although in WWE, neither team would have as much power to make their preferred matches happen). It's also possible that this is just some guys who like each other having fun on twitter and working the fans. Only time will tell, and for now we can only hope that one of the most talented tag teams in WWE eventually gets to have a fair fight against an equal number of opponents.