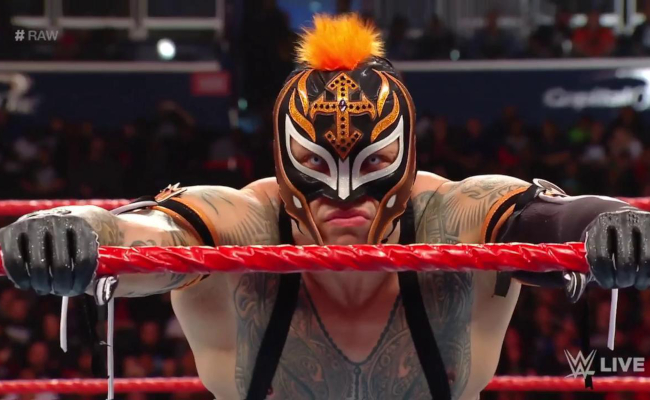 Rey Mysterio was set to face Andrade on Smackdown Live tonight, but WWE announce on Twitter that that the match is cancelled because he injured his ankle during his match with Baron Corbin in the main event of Monday Night Raw. In the twitter video, Kayla Braxton says he was injured "at the hands of" Corbin, but if you watch the rather painful-looking moment when the ankle injury happens, it's not really Corbin's fault. Rey just landed wrong.
You can judge for yourself:


Kayla also notes that so far Rey's scheduled match with Samoa Joe for the United States Championship at WrestleMania 35 has not been canceled. Rey's injury will be reevaluated between now and Sunday, and that decision will be made at that point. If Rey isn't healed in time for Mania (which is only five days away, let's remember) the next question is who faces Samoa Joe if Rey can't. John Cena, maybe?
As we see more blurring of the lines of the brand split that has separated Raw and Smackdown since 2016 in the run-up to WrestleMania than we've seen in a long time, Mysterio's injury points to one easy-to-forget advantage of keeping the brands separate. If you're only on one show a week, after all, you can't get hurt on the first one and have to miss the second one.