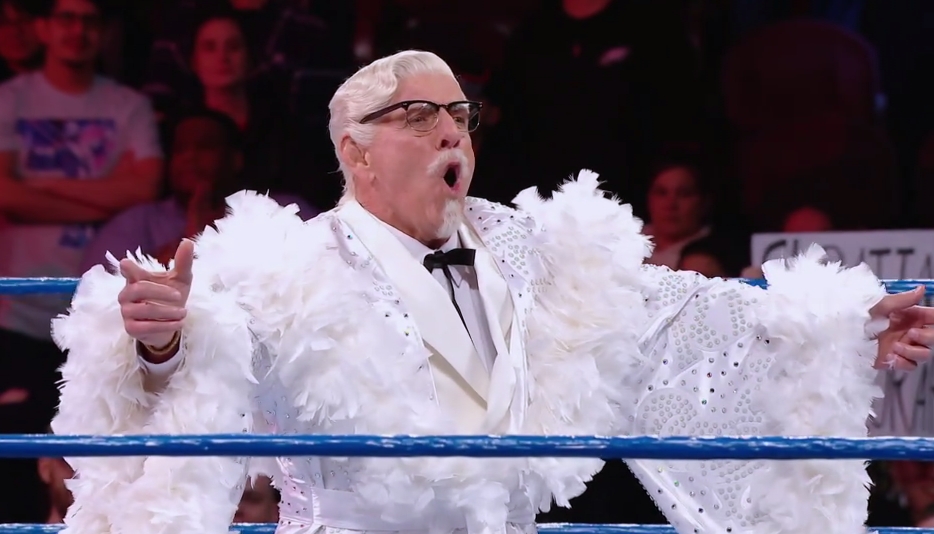 Wait, what?
Late last year, 16-time World Heavyweight Champion 'The Nature Boy' Ric Flair's mere survival after catastrophic organ failure was considered a miracle, as he was too weak to open a Gatorade bottle and didn't recognize his own daughter. Now mere months later, Naitch is making a guest appearance on the Royal Rumble pre-show panel and, in a sentence ending I'm about to type, winning a KFC-sponsored Royal Rumble to become the latest WWE Colonel Sanders. This title was previously held by Shawn Michaels.
The KFC Colonel Rumble appeared as a commercial during the Royal Rumble proper and included The Miz, Breezango, Goldust — the "most bizarre Colonel" Corey Graves had ever seen — and more. Flair was the final entrant, and wore a Colonel Sanders-themed Ric Flair robe to the ring in the single greatest chicken-related WWE moment of all time.
This title is legit, as there's already a WWE-produced shirt made in celebration.
The back reads, as best we can decipher:
You're talkin' to the mealin' and dealin, bucket fillin', chicken fyin', pot pie-in, sonuva gun. And I'm havin' a hard time not seasonin' every (???) one a ya. Woooooooo!