After 20 years in the pro wrestling business, Rocky Romero has pretty much done it all. From training under the incomparable Antonio Inoki, to struggling in Mexico, to flourishing in New Japan, Romero has become one of the most talented and respected wrestlers in the world. As we discovered during a visit to Toronto, the former IWGP Junior Heavyweight Champion and current Roppongi 3K boss somehow manages to be so much more than his incredible career.
When we spoke with him, Romero had just released his second album, Six Trees Vice 2, one he described as "a mixtape more than an album," and took some time out of his busy show day to tell us a little more about his creative outlets both in and out of the ring.
"I feel like the first [album] caught people off guard so much," opines Romero, "That it was like, 'What is this?' So people wanted to check it out on the first one. … Now understanding that actually had a single for that album because I had the Roppongi Vice theme music and that was really good in the way of promoting it." He thinks things are different this time around.
"This second one, I think it was just like the people actually enjoyed the first one got it, who didn't have the interest for it. After it was like, 'Rocky Romero has an album,' they didn't show up. I do think that it's — musically, it's actually a better album than the first one. Blows the first one out of the water. "
WITH SPANDEX: What first made you want to do music on the side?
Rocky Romero: I was living in Mexico and I was hating my life, because I was working for AAA at the time. I needed to find something to occupy my time, and do something creative because I wasn't doing it in the ring. I picked up a computer, a laptop, I downloaded FL Studio for the loops, and then I got a controller that for some reason Alex Koslov had. I don't know why. I was like, "Hey dude, can I borrow this?" He was like, "Yeah, I don't ever use it."
I just started making beats and then I would go get Marco Corleone, he used to live on the 11th floor a few flights above me. Me, Jack, and Koslov lived on the 9th floor or something like that. He would just come down and we would make music. I just bought a cheap mic because I didn't know what I was doing. The sound quality was terrible. Then we just started making music and it was something fun to do. It grew and got more and more serious. I started doing the wrestling themes for people. I did one for him, I did one for us, and various other people.
Everybody was like, "Oh, you should do an album." I was thinking that'd be like a different thing to do for merchandise. Nobody does an album. Then I did it. Then, that's where we are. It was really well received. The shock of it, the shock value of it. I decided, why not try to do another one.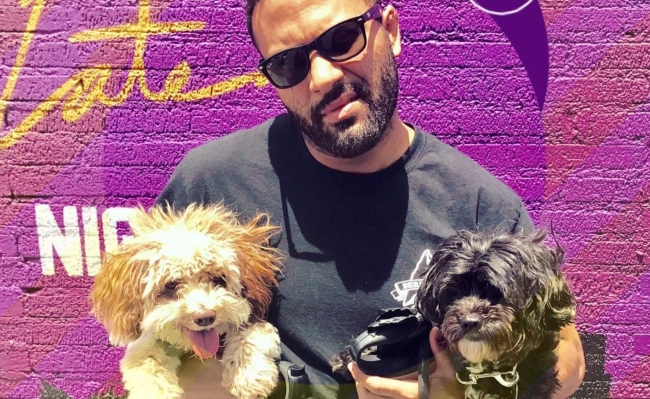 Has your setup evolved since that cheap mic in a Mexican condo?
Yeah, definitely. It's definitely evolved. I definitely learned a lot —
You got that New Japan money.
[laughs] Yeah, that New Japan money. I finally got a good mic. I'm still using the same program because I love that program and I've evolved with using it. You get better at it. I think I'm making better stuff now than I ever was. Definitely better than those days in Mexico.
Rocky Romero On …
Ishii: He's a very nice guy when you get to know him. He always smells very nice. He smells like an ocean breeze.
The Young Bucks: How professional is that tan? In any situation I would love to wrestle the Young Bucks — in front of five people, in front of one person, in front of twenty thousand, two hundred thousand, in the middle of North Korea somewhere. Two solid guys.
Warbeard Hanson: That beard smells wonderful. Like daylight and sunshine.
Okada: Oh he's definitely a top hunk. Definitely my top New Japan hunk.
Sanada: His hair, how does keep that hair up for so long? He does four long matches at the hair doesn't move. Twenty minutes. That's impressive. I'm worried about his hair, it might fall out. I hope he conditions it. I'm worried about it.
You say you weren't happy with your lack of creativity in the ring in AAA. What's your level of creative freedom in New Japan?
We have all the creativity in New Japan. We really have free reign there. Character-wise you can do whatever you want, you can say whatever you want. There's no restrictions to anything. That's why you've seen those funny, mean videos of Tama Tonga and Tanga Roa cursing up a storm. There's nobody to tell us that we can't.
Really, to work for such a big company and have that much freedom, it's unheard of. I didn't have to separate things or compartmentalize and say "Okay, well I'm going to use this for this." It was like cool, the music fit into the character, then this, and I just added stuff that was actually me and not just playing a role for somebody like I did in Mexico whatever. It just all came together and then I just kept coming. I was just like I'm going to keep creating stuff until somebody tells me, "Hey, you should stop doing that, because it's not very good."

You put so much personality into what you do, but you're also an amazing technical wrestler. Most people don't get the credit they deserve for being able to do either of those things, but you seem to have struck the perfect balance between the two with that freedom you're granted in New Japan. How do you navigate the two styles?
Those are two very different ends of the spectrum. For some people it can go either way. I think it just depends on what the situation is calling for. One thing that I learned at an early age in wrestling was always know what your audience is and who your audience is because it's always going to change. Some people in L.A. are going to like these kind of things, but they're not going to like the comedy. Then you go to New York and then they want all comedy. It also depends on who you're wrestling, right?
They want it and then they hate it.
Romero: Haha, yeah. It's crazy but it actually makes sense. My trainer, Kevin Quinn, would tell me, 'Hey, we used to go to different towns and somebody might like the Rock in San Antonio more than whoever. They like Stone Cold more than they like The Rock in San Antonio.' Then you go to Phoenix and it's completely different. You kind of have to know what town you're in. If we go to a smaller country town usually comedy stuff will work better because they're going to see so much actually wrestling with an Ishii on the card, or Shibata or something.
They're going to get their fill, so how do we make ours a little bit different but still get our point across? And when it's time to get serious, we'll get serious. I think that's the important lesson in all that. For me, it's not always 100% of the match is either funny or not, it's sixty or seventy percent and then that last thirty, forty percent has to be serious. We're still trying to beat each other because there's still a goal at the end of this.
***
A few months after that second album dropped, Romero announced that his longstanding (and extremely popular) tag team, Roppongi Vice, would be splitting up so Beretta could move up to play with the heavyweight boys. Since then, Romero has launched his own merchandise website (that includes hand-written thank you notes), and continues to release even more music in his off-time.
With a clean slate ahead of him, Romero went on the lookout for something "fresh and new to sink my teeth into" in the ring. He found that in his mentorship and management of two juniors SHO and YOH as Roppongi 3K.
We love us some RPG3K (and Rocky with a fire extinguisher), but we'd be lying if we said our hearts won't forever belong to Vice. As such, we couldn't possibly talk to Romero without asking what made tagging with Beretta so special. He took the time to list his favorite Roppongi Vice moments ever, in his own words.
Rocky's Top 3 Roppongi Vice Moments
1. Winning the Junior Tag Team Titles For The First Time: The first time we won the junior tag titles it was in an awesome match against the Young Bucks. Trent cried. It was touching.
2. Super Junior Tag Tournament 2015/16: We had this great match against ReDragon and lost in the finals to Ricochet and Matt Sydal in 2015. Then there was the story of redemption in 2016 at the next year's tournament. We almost broke up, but then ended up winning the whole thing.
3. Final Battle Against The Young Bucks: The end and final battle against the Bucks was so bittersweet. But as a wrestler, you beg to have that kind of real life moment in the ring. Saying goodbye and ending the team in front of my hometown crowd was amazing and sad at the same time, but also the realest moment I've ever been a part of on screen. It was dark and beautiful, but also left me with nothing but new things to try. And I'm all about trying.